I'm a massive procrastinator, so more often than not I end up finishing off DIYs completely out of season. This most recent make is no exception, being totally inappropriate for the oncoming Spring, but I'm hoping I'll get a few wears out of it yet (and as I type it is hammering down with hail outside, so I could be in luck...)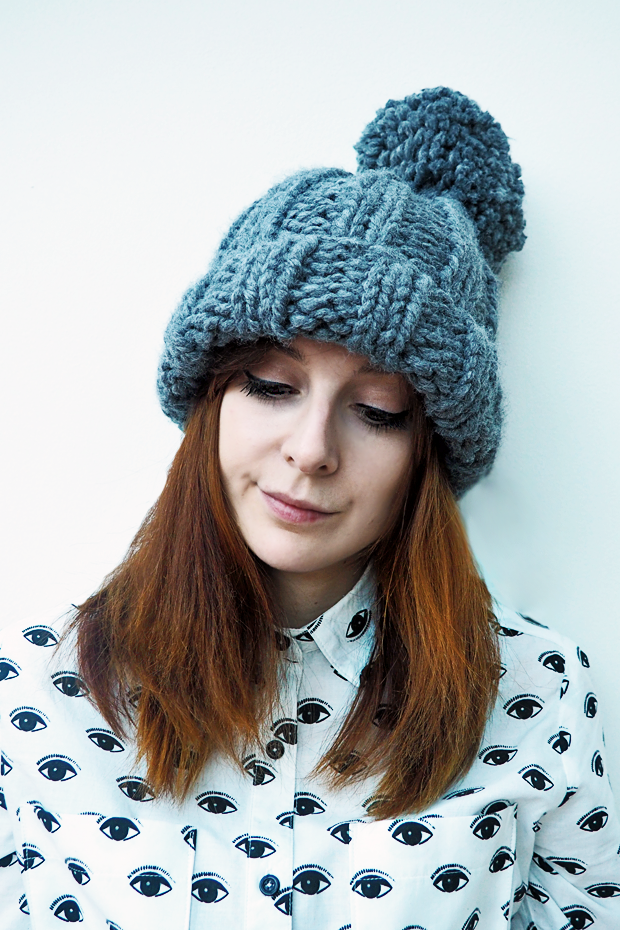 I've tried knitting a few times in the past but never actually completed anything. The closest I came was a Gryffindor scarf I got about 50% of the way through when I was about 15, but it got abandoned (see above comment re: procrastination), and when I realised I could just buy one when I went to the Harry Potter studio tour, it was consigned to the recycling bin. However, I've had the idea for a knitted hat in mind for a while now, and finally got around to knitting this a couple of weeks ago.
I already have a
bright pink chunky knit beanie
from Asos that I love, and wanted another similarly beefy hat. As I love pom poms, I decided that any hat I made needed one of those, and the bigger and more ridiculous, the better in my opinion!
I liked the look of the
Wool and the Gang
kits that I saw in John Lewis, but the price tags are somewhat ridiculous. Over £40 to knit your own beanie!? No thanks. (They do have some
free patterns
though that look fun, including jumper patterns, so props to them for that.) Despite having practically zero knitting knowledge, I thought I'd go it alone and see what I could bodge together (which is pretty much my attitude towards life...)
It's made from two balls of
Cygnet Seriously Chunky
wool in Slate Grey, knitted on some large bamboo needles I bought on a whim in
Tiger
a couple of years ago (I have no idea what size they are, sorry!) I got the wool for £3 a ball from the Birmingham Indoor Market and the needles can't have been more than about £3-£4, so for less than a tenner I can't complain about the price.
I made up the pattern as I went along, helped by a combination of Pinterest tutorials, YouTube videos and counting the stitches in my Asos beanie. It's certainly not the neatest and I wouldn't want any serious knitter looking too closely at the top of the hat where the ribbing and decreases get pretty erratic, but I love it all the same. The main hat part took about 1+1/4 balls of wool, and then I used all of the remainder to make the giant pom pom. It's just made in the normal 'wrap it around two cardboard circles' fashion, which I used a coffee cup saucer to get the size from.
It's very comfy, warm and looks pretty ridiculous (the pom pom looks even larger in real life,) so ticks all the boxes for me! I'm not sure I'll be racing to knit anything else in the near future, and anyway it's coming up for warmer weather, but I am chuffed to bits with my first successfully completed knit!