I was feeling a bit bleurgh today, through a combination of illness, school work stress, university application anxiety and the general freezingness of my house.
So, to cheer myself up, instead of going and blowing a load of money buying clothes online (it has been known), I decided to "play dress up" and try on some of my nicest dresses, all of which have only been worn once and not since.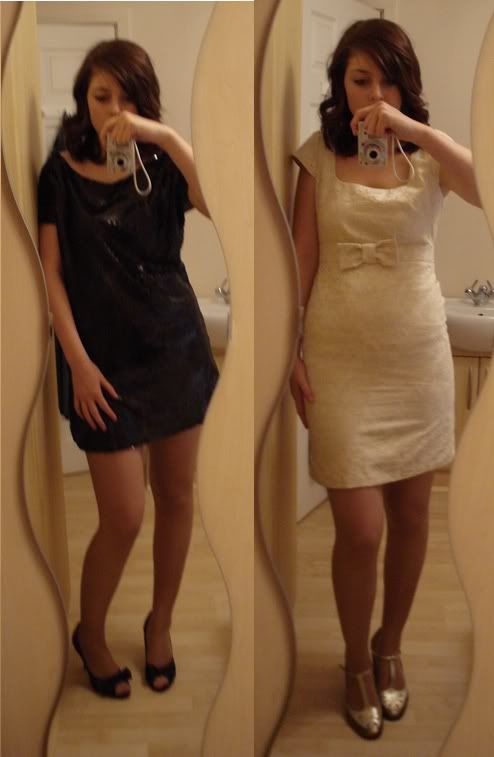 Firstly, my black sequined dress (
which I'll be keeping away from Susie!
) which I wore to a Hollywood themed party a few weeks ago. Its quite a memorable dress, which means its unlikely I'll wear it out again with my friends, but at least it only cost £18 from Peacocks! I do really like it though (even though it is scandalously short, at the party I had to wear black shorts underneith), so maybe I'll find some way to wear it a bit differently for the Christmas party season. Maybe with grey/black skinny jeans/trousers?
Second is the gold dress I wore to our girly's posh christmas meal last year at my friend Emily's house (we had a load of those little party food things you can get from Iceland, like on the Kerry Katona adverts, so not that posh at all really!). It looks quite tight now, and is even more than "quite" if you could see it in real life. My bum is squashed flat as a pancake! But I suppose thats what comes of trying on a size 8 dress when you're now a 10/12 on the bottom (it fits on the top, because I am one of the small-boobed.) When it fits properly it gives you a lovely hourglass shape, and was not very expensive as it was on sale for something like £15 when I got it. Also pictured: trusty gold vintage-y Marks and Spencers heels I got for my birthday 2 years ago. The most comfy pair of heels ever!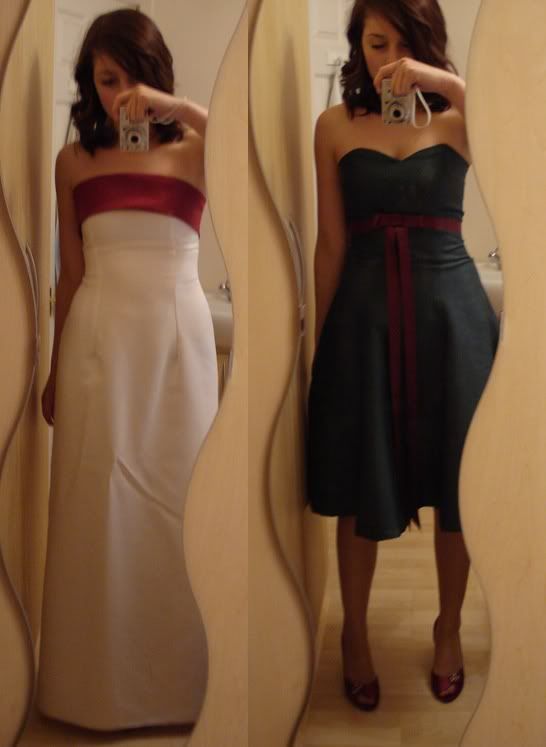 Gooorgeous bridesmaid's dress from my cousin Emma's wedding. I didn't expect this to fit as the wedding was almost two years ago now, but it still fits perfectly! It was made-to-measure, as was my cousin's acyual wedding dress, which was an amazing black corset/bustier and skirt with champagne coloured accents. I was considering having it shortened to make it more wearable, but I don't think I could change it now, cause it's so lovely the length it is. It makes me feel so grown up wearing it *giggle*
Aaand my prom dress from the year 11 prom in summer 2006. My mom made it for me so it fit perfectly, and again, surprisingly, still does! The shoes are my bridesmaid's shoes, but I did wear them to prom too as the green and burgundy look good together. The bow was actually a last minute addition, but I think it pulls it together nicely. I might wear this at Christmas actually, as it can pass for a party dress. Just as long as no-one thinks I've come in fancy dress as a Christmas present/tree!
It was especially lovely getting these two dresses out, like catching up with friends you haven't seen in ages!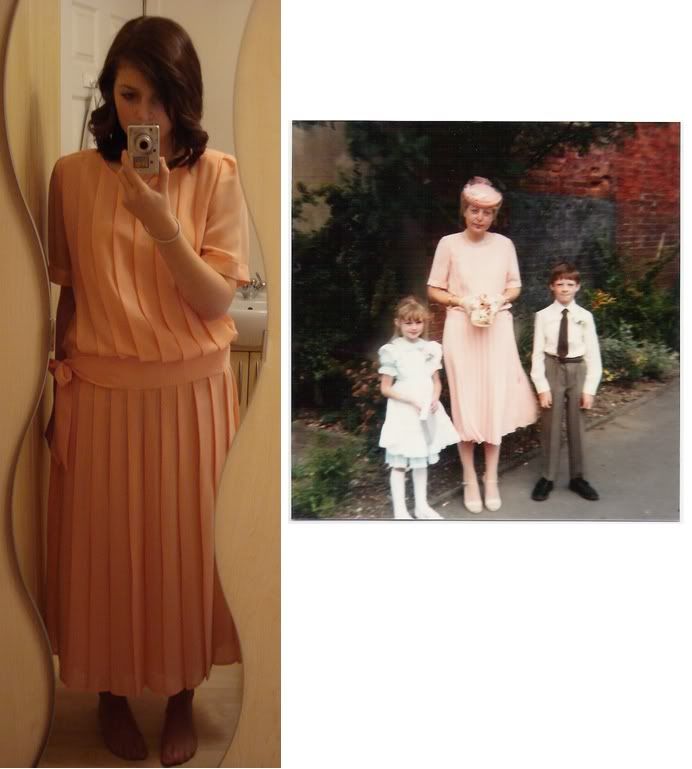 Finally, this is my mum's wedding outfit from her and my dad's wedding. They got married in a registry office, so it wasn't a big white wedding or anything. I didn't consider trying it on until I glimpsed the label when I went to retreive my bridesmaid's dress from its safekeeping in my mum's wardrobe (mine is too packed and hazardous) and saw it's a size 10. So I thought what the heck, I'll see what it looks like on me! Despite the fact I'm not a fan of peach, I actually think it's quite nice. It even has big ol' shoulder pads (but I suppose they did get married in the 80s!).
The picture on the right is my mum on my parents wedding day (ok, so that's kind of obvious), with two of my cousins. It's weird to think that the cute little girl in the Alice in Wonderland-esque dress is the same person who's own wedding I wore the above bridesmaid's dress for! Haha, makes my parents sound old! (They're actually a
great
uncle/aunt 4 times over now. Ha!)