Kawasakis rose
Origami, the ancient Japanese art of paper-folding comes from the words "ori", meaning "to fold" and "kami", meaning paper. (Thanks for that Wiki.)
Personally, I find it fascinating how such beautiful and intricate sculptures can be created from no more than a sheet of paper and a pair of hands. A small number of different folds are combined to make thousands upon thousands of different shapes and models, in all manner of colours and patterns.
Perhaps the most famous origami model is the paper crane. Cranes symbolise peace in Japan, because of the story of Sadako Sasaki.
Sadako lived in Hiroshima and was 2 when the atomic bomb was dropped on the city in 1945, ten years later she was diagnosed with Leukemia, "the atomb bomb disease." Her best friend told her about an old japanese legend that says if a person can fold one thousand paper cranes, they will be granted a wish. Sadako hoped that if she folded the 1000 cranes the gods would grant her wish to be well again. Whilst in hospital she folded around 1300 paper cranes, but sadly died in October 1955 at the age of twelve. Sadako had a second wish however, one for world peace and love, and so the crane became a symbol for peace.
A monument to Sadako Sasaki stands in Hiroshima, and the city's peace gardens are hung with strings of thousands of colourful cranes.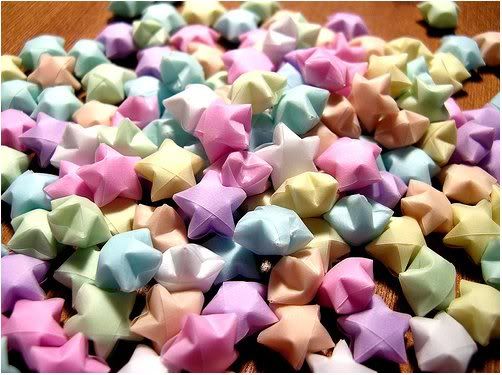 Another popular origami is wishing stars. Tiny stars are folded from strips of coloured paper and given as gifts in glass bottles and jars, often wish wishes or secret messages hidden inside. They also look pretty displayed in bowls or strung up in rows. They're really simple to make,
click here
for instructions.
Luella SS08/Luella SS08/United Bamboo AW07
Recently, it seems designers have been using origami influences in their garnments, from the large folded pleats at Luella, to the more structural shapes from United Bamboo, to the large and obvious origami references in Galliano's SS07 Couture collection for Christian Dior.
I've been looking through the "how to" diagrams on
origami.com
to try and find a simple but structural fold that I can use as embellishment on an item of clothing. An origami-influenced garnment is high on my list of DIY projects to attempt, so hopefully I'll be showcasing my efforts within the next few weeks.