Inspired by Gem Fatale's
post about her makeup
, I've decided to share with you all my preferences when it comes to the old maquillage.
Daytime makeup:
No. 7 Stay Perfect Compact Foundation
- This is fantastic, it stays put ALL DAY with no need for re-application, and even holds up in the wind and rain that I encounter most day whilst walking to school. It isnt at all cakey or cloggy, blends well and gives a natural matt finish. And it's very reasonably priced!
Clinique Blushing Blush in Aglow
- I've had this for over a year and use it every single day, and I'm only about a third of the way through! Fantastic value for money. This blusher is really quite long lasting too, and the colour I use suits all skin tones (I know this because my friends always use it if they see I've got it with me at school, and it looks great on them all - one has olive skin, one is 1/4 bangladeshi and one is the palest person I've ever encountered!), giving a healthy slightly sunkissed glow which even looks natural in the winter.
Maybelline Volum' Express Turbo Boost Mascara
- I bought this without really looking at the packaging as I was in a rush and didn't have time to um and ah over makeup for ages like I usually do. It turns out this is a great mascara, gives great
natural looking
volume for daytime, but if you build up the layers you can get a more dramatic look for the evening. The only problem with it is that the wand can get cloggy quite easily, but if you're careful to wipe off clumps it's easy to use.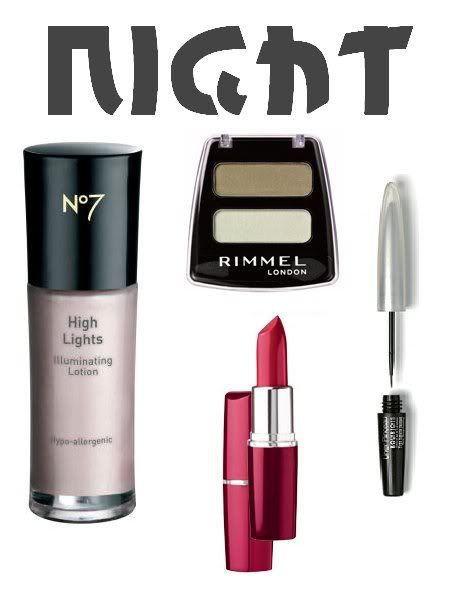 Extras used for evening makeup:
No. 7 High Lights Illuminating Lotion
- Gives your skin a great glow without looking shiny when used under foundation, and I also use it after foundation to highlight different features to give the impression of better bone structure.
Rimmel Colour Rush Eyeshadow in Metallic Pearls
- Slightly metallic grey shades that blend together well to make a smokey-eye easy to do. Colour can be built up depending on how high-impact and strong you want the eyeshadow to be.
Maybelline Moisture Extreme Lipstick in Passion Red
- The perfect bright red colour, looks great applied normally for a strong colour, patted on for a lip stain effect or mixed with a clear gloss or vaseline for a sheer glossy look. It smells deliciously like watermelon sweets too.
Bourjois Liner Pinceau in Noir Beaux-arts
- Simply a good liquid eyeliner. The flexible brush allows for varying thicknesses of line to be drawn.