Especially as I made this about a month ago and haven't got around to posting it yet!
I missed out on
this skirt
when it was in Topshop, and was quite annoyed. (I've only seen one person in real life [i.e. not Selina or Queen Michelle] with the skirt though. Where are all the rest of them?)I even looked on weird fetish clothing websites to try and find a similar skirt, but came up with nothing.
Then when I'd pretty much given up hope of ever owning a pvc skater skirt, I found some cheap black fake leather on eBay. So, £7 and two seams later, here's my own version of the Topshop "Pu Swing Skirt".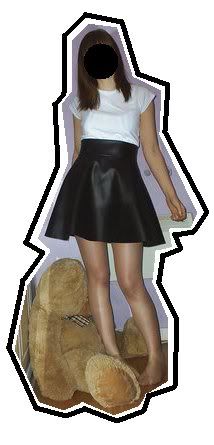 I realise im a bit late jumping on the whole pvc/leather look bandwagon, but the skirt being non-shiny means it's not too "look at me" so I think it will last me alot longer than the duration of the fetish-wear trend.
However, I am struggling with thinking of ways to wear it. I'm not sure what to wear with it except quite plain/close fitting tops. Any ideas?