I'm getting pretty bored of my hair at the moment,and I'm thinking
about having
it cut into a blunt long bob, a la Kate Moss, but I've spent 2 1/2 years growing it now, so it seems a shame to cut it off.
So anyway, whilst randomly flicking through style.com an image from Marc Jacobs SS08 show caught my eye, and I had the idea to try and recreate the crazy backcombed
faux
bob hairstyles the models had on the catwalk.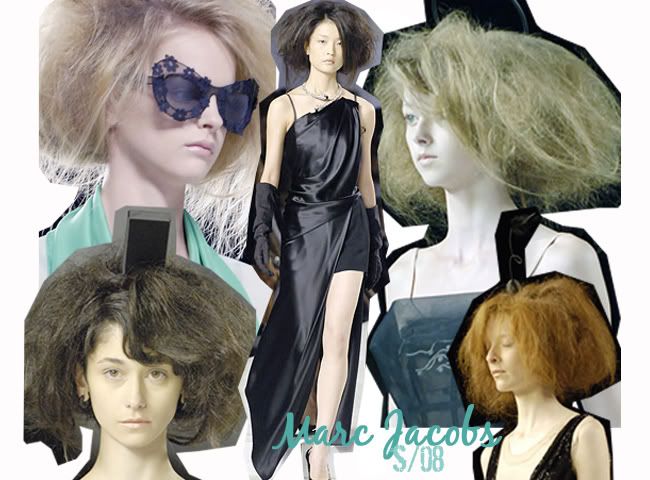 My version is a
bit
lot less
OTT
, but it's all about taking inspiration, not copying completely. And unfortunately I didn't have any kooky headpieces either.
It was dead easy to do
as well
, just clip up the top section of your hair (this won't work unless you've got chin length or thereabouts layers though), backcomb the rest, gather it into a low loose ponytail and pin the ends under, then let down the top and backcomb that a bit and make sure it covers all the tucked under bits. And voila, one fake Marc Jacobs bob!
It needs a bit of perfecting before, but with a bit of practice and lots of hairspray I'm pretty sure I'll be wearing my hair like this on a night out soon.