Proof that if you spend too much time with people you start to become the same person. This was in no way intentional.
The boots make my legs look stumpy but I don't really care because I love them and they're stupidly comfortable for like 5+ inch stilettos. I can't be without my giant platform heels now.
Just a run-of-the-mill wednesday night out at the local
Walkabout
by the way, no special occasion.
WARNING: Too much vodka will make you do stupid things like this pose. Don't do it kids.
Oh, this actually happens a lot it would seem.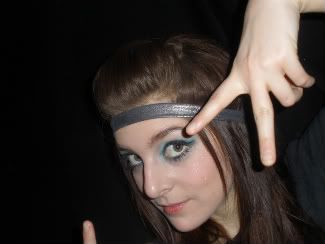 Flatmate's birthday outing to Zoo Bar//Truffle Shuffle
80s night
Finally got to do Luella AW08/09 eyeliner that I've been wanting to do for aaages but haven't ever felt I've been wearing the right outfit for.
Outfit deets: AA U-neck dress, Claire's belt, Birmingham indoor market tights, New Look boots. I think my friend is wearing a Topshop dress and heels and Dorothy Perkins tights, but don't quote me on that!