I've already posted about
overhauling my wardrobe
for spring, but I also wanted to do a post about updating your makeup for the new season. And more importantly, how to do it as cheaply as possible.
It's all very well and good posting about new makeup innovations from expensive brands etcetc, but I didn't want to recommend anything I hadn't tried myself, and, as I'm a poor student, my makeup tends to be of the cheap and cheerful variety.
As of late, my general day to day makeup involves black eyeliner, a bit of bronzer, a peachy-gold blusher and heavy mascara, in addition to the necessary concealer and foundation. For spring however, I wanted a fresher look to go with my (potential) new wardrobe.
So, I've mainly taken cues from the makeup seen at the Anna Sui Spring 09 show. Quite a simple look with rosy cheeks and lips and minimal eye makeup.
Images from style.com
And here's what I'm using: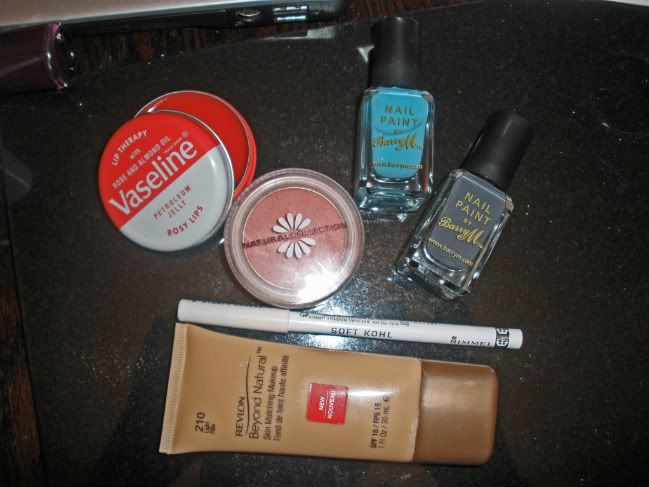 Revlon Beyond Natural Skin Matching Foundation
I was sceptical of this when it launched, but after trying it out in Boots I totally changed my mind. It's really really good. It turns from white to the EXACT same shade as my skin, and gives decent coverage. It isn't matte, but it isn't really shiny either, like some liquid foundations. It just makes your skin look really fresh. I think it's about £10, which isn't really cheap, but there are promotions on it in quite a few places that I've seen, and it's definitely worth the money!
Natural Collection Blushed Cheeks in Pink Cloud
This is less than £2, and it's pretty much as good as my dead expensive Clinique blusher. And the perfect pink for spring, it gives you a flushed naturally rosy look without looking fake or garish. And did I mention it's less than £2!!
Vaseline Lip Therapy Rosy Lips
Amazing. Again, under £2. Loads of beauty bloggers are going crazy for it, and I'm in agreement. It gives your lips a subtle rosy tint, AND it's super moisturising too, even more than normal vaseline, because it contains almond oil. I'm not so crazy about the rose scent myself, but then I don't really like anything that smells of roses. If you're going to buy one new beauty product, buy this. Oh, and the tin is cute and pink. Bonus.
Rimmel Soft Kohl Eye Pencil in White
About £3 I think. I used it on my waterline and inside corners of my eyes to make them look bigger and more wide awake. It stays for ages, I'm impressed.
Barry M Nail Polishes in Turquoise and Grey
I love the range of colours Barry M does, especially in nail polish. Have a look at their website
here
. I thought these were great colours for spring, and I've been after a grey nail varnish for ages. I want their really sugary sweet baby pink colour next. Oh, and they're about £2.95. A lot cheaper than most brands.
And the rest..
I've decided to lay off the thickening/curling/lengthening fancy-schmancy mascara and just go for a simple natural look. I used Maybelline Great Lash, but pretty much any "normal" mascara will do. Which is good because they're normally the cheapest. Or if your eyelashes are dark enough maybe just use clear mascara?
And to finish it all off maybe wear a sweet and light perfume like DKNY's yummy apple scented Be Delicious - I really need to get some more of that, I've run out :'(
And I know this is
pretty much
very silly, posting a picture of my own ugly mug in comparision to those of Viktoriya, Lily and Eniko (just look at those cheekbones!) but I thought it's only fair that you see the products in application.