It seems there's a load of printed and patterned blazers floating around at the moment, and I'm really quite taken with them. I think the obsession started from this beauty which opened the Topshop Unique Spring 2009 show.
Isn't it just lovely? Cute print and perfect colours.
Unfortunately I never saw this online or in store, so I presume I missed out, but I have been looking at other options..
Floral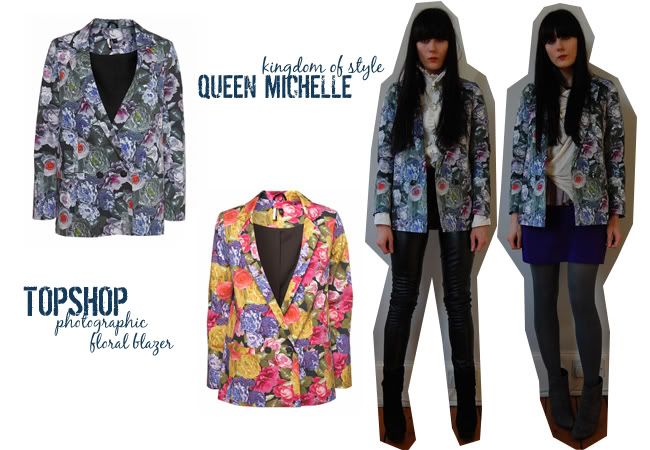 Queen Michelle
looks amazing in
her floral Topshop blazer
, which I'm going to try and find on my next shopping trip (hopefully soon!) as it's still on the website after an age, so fingers crossed it's still in the shops. I don't know if I'd be brave enough to buy and wear it, but I really want to try it on at least!
Spotty
Ok, so the Miss Selfridge one is no way near as good as
Moohoop's polka dot blazer
(whoops, it's actually an oversized waistcoat now I check, but it's still fantastic!), but still.. I think the dots definitely look better oversized. (Like
this dress
, wow!)
Union Jack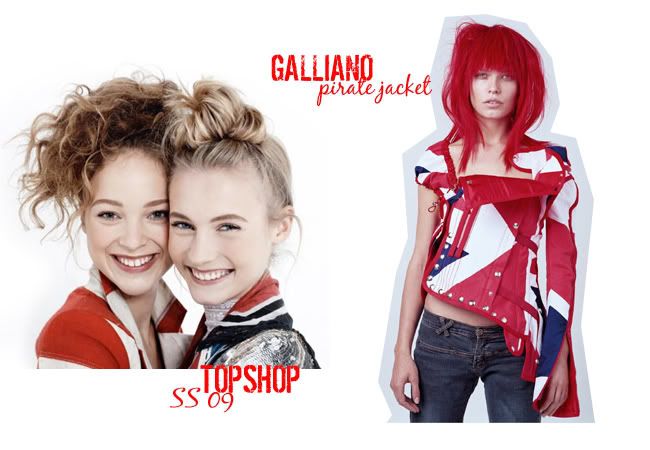 That picture from the Topshop website has been taunting me for ages. A Union Jack blazer? Yes please!!
It reminded me of the Galliano pirate jacket that
some people on Craftster made
, I love all the pieces and straps and a-symmetry.
Unfortunately, it's looking as if I'm not going to find my perfect patterned blazer, and my sewing skills really aren't up to making my own I don't think. But I have a plan involving changing the lining and cuffs of a jacket I've already got. We'll see how that goes.