Sooo, for those of you who don't know, on Sunday me and my friend Hannah went to see GIRLS ALOUD!!! at the O2 arena. And it was beyond amazing.
I actually can't describe how good it was. The girls were all really good at singing live too, better than I expected, especially considering all the dancing they were doing too. I reaalllly want to see them again now, and me and Hannah are buying the DVD as soon as it comes out so we can re-live it in our flat next year and learn the dance routines haha.
The stage had five huge video screen things at the back with different graphics and videos of the girls in tons of different fabulous outfits on, and they did so many different routines (even a pole dancing type one) it was just so fun to watch.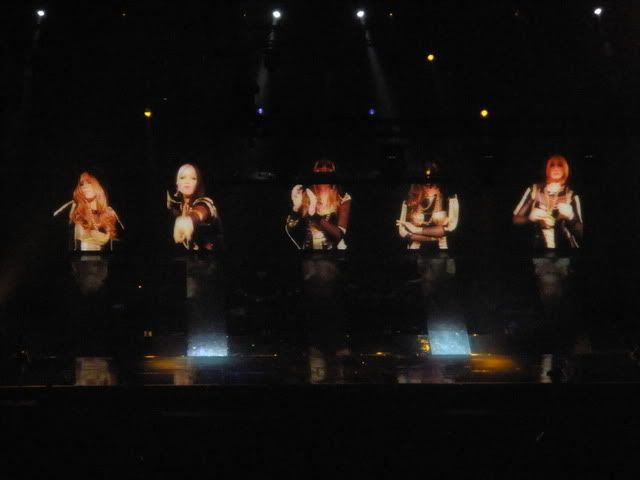 At one point they stood on a platform which flew out across the audience onto a mini stage in the middle of the seats on the flat and did songs there too, so I could get some closer pictures and videos (cause we were really high and far back so they were teeny tiny but you could still tell who was who and see the outfits so it was fine.)
And the backing dancers were mega buff and did things like throw glitter onto the crowd and get tied up like puppets when they sang Womanizer!
We were a bit scared of dancing cause we were wearing really high heels and even when we took them off it was soo steep and high, but we just couldn't not dance in the end, and fortunately no injuries were sustained!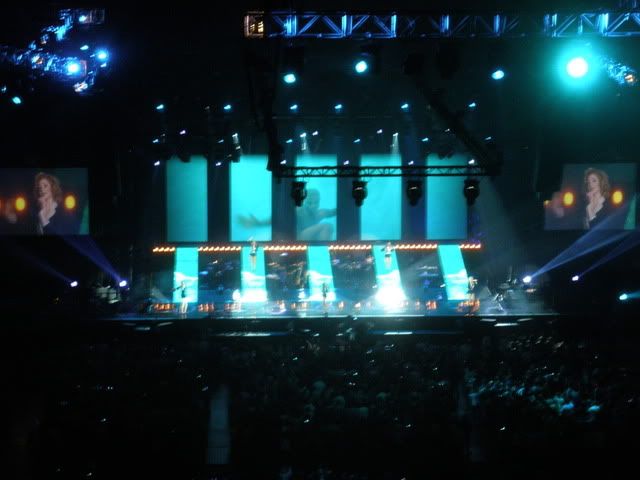 I video-ed a few of the songs with my camera and put together this video of the highlights. It's not very good quality so it sounds a bit dodgy and the dancing looks a bit robotic, but trust me, it was fantastic in real life!
It's really shaky in Sound of the Underground because I was dancing and filming at the same time. And you might be able to hear me talking about how "I'd be sh*t scared if I was them" in The Promise cause of how high up on platforms they were :p !
We took it as an excuse to get all "glammed up" and got a few funny looks on the way there (we took the Thames Clipper boat, soo much fun and it's so much more interesting arriving at the O2 along the river than on the tube!) but we didn't care.
My hair is
not
that colour in real life, it just seems to be refusing to photograph properly at the moment. It's actually blonde.
Outfit details:
Me - New Look dress and heels, Primark bag and belt.
Hannah - New Look dress, Topshop bag and heels, Primark earrings.
(Gutted on you if you're reading this Hannah, I know your wardrobe too well it would seem :p)
Moral of the story: If you get the chance to see Girls Aloud live, for goodness sake take it!!!