I realise that festival season has been underway for weeks and weeks now, but I've only just started thinking about it because I'm going to Reading this year and it's not until the end of August.
I know magazines and everything are always full of festival guides, but those often strike me as a bit impractical - all maxi dresses and sandals. Fine if you're off to a festival somewhere guaranteed to be hot and sunny, but if you're going to a UK festival, then rain, and consequently mud, are pretty much a given.
Soo, here's part one of the Fish Tank Guide To Festival-ing
The Essentials
Wellies
Pretty obvious, but there's so many different types and brands and colours and sizes of wellington boots out there it's pretty overwhelming. I've picked out (what I think are) the best choices.
Hunter wellies - £55 from
Asos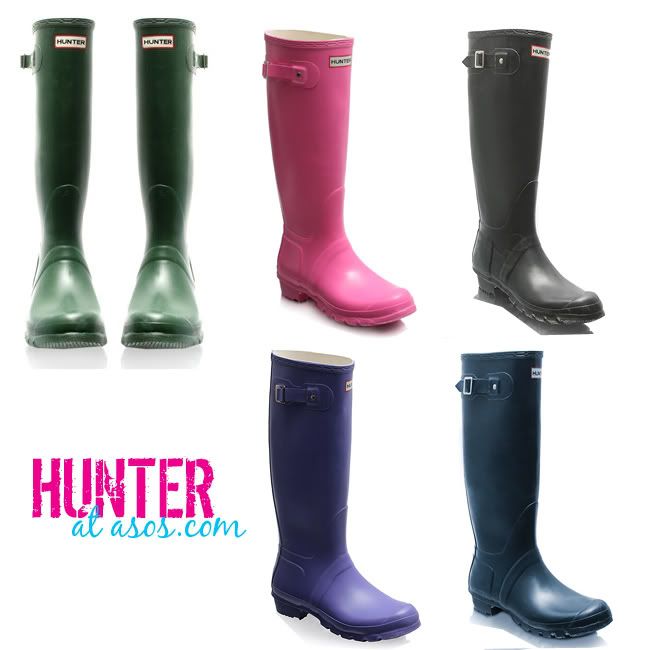 Hunter boots are your "classic" wellies, favoured by celebrity types like Kate Moss, Alexa Chung and other such festival goers. Personally, I like the green and black colours, but as you can see, they come in a big array. There's even a charity version for water aid, and more varieties such as different lengths, some with patterned straps and lace up ones too. Friends who have got Hunters say they're dead sturdy and aren't likely to wear out, and the thick sole means you won't get a nasty injury if you step on a tent peg, unlike what could happen should you do the same in flip-flops..
Something a bit more interesting - all from
Office
From top:
Horse print - these are really fun, and I'm quite tempted by them. Horses seem to be a bit of a trend at the moment, but this might mean you might not want to wear these next year. At £25 they're cheap enough that it doesn't really matter if that happens though.
High heeled wellies - These are ridiculous, and probably impossible to walk in mud in. And they don't even look good in my opinion. Thought I'd stick them in here incase they take anyone else's fancy. If not, they're good for the amusement factor.
Biker boot wellies - On first glance you can't tell that these aren't real leather biker boots, which is quite cool. I think I'd rather have a real pair though, (Office are doing some great inexpensive ones
here
which I've got my eye on for winter.)
My personal favourites
These "quilted" wellies are also from Office, and are most probably the ones I'll be buying for Reading Festival. They're fun, but not overly flashy and look pretty darn practical too. And only £25, bargain.
Waterproof Jacket
It's a festival, therefore, it WILL rain. As far as waterproofs go, I think it's the best idea to go either really cheap, so it doesn't matter if it gets wrecked and ripped, or an investment more expensive jacket which will resist wear and tear.
Cheap option - Teenage Cancer Trust designer macs
Christopher Kane, PPQ and Twenty8Twelve have designed these dirt cheap (£9.99) macs to raise money for the Teenage Cancer Trust. £5 from the sale of each one (from
M and M Direct
) will go to the charity. Just because you're on a budget doesn't mean you can't be stylish..
Expensive option - Barbour jackets
By appointment to Her Majesty the Queen,
Barbour
is the label of choice for outdoor and sporting outerwear. True, the coats and jackets are expensive, most between £150 and £300, but they are guaranteed to last years, and they're timeless too. If you're put off by the royal connection, Kate and Alexa have both been seen wearing them and looking amazing (and Agy cites the Queen as a style influence anyway!)
Tents
Tents can look good too, like these patterned Gelert ones from Argos.
They're pop-up too, so dead easy to put up, no faffing with poles and stuff. Or for something even more different and a bit more exciting, how about a
teepee?
Check back for Part 2 early next week!
Oh, and I'm planning on doing a Q&A post soon - so any questions, comment or email them!!