Hair and Beauty
Part two of my Festival Guide, read part one
here.
Despite this being a fashion blog, I'm not going to tell you what to wear clothes-wise, because I think the great thing about festivals is that it's an excuse to go crazy and wear what you want for a weekend. I would suggest
not
going for rompers/playsuits though. The idea of having to remove all of your clothing to go to the loo in a skanky portaloo is not a nice one, and it would be almost impossible to wee in a bush whilst wearing a jumpsuit, if you really had to.. ahem..
So without further ado, The Fish Tank Guide to Festival-ing, hair and beauty edition.
Face
Make-up -
Firstly, you don't want to be taking any nice, expensive make-up to a festival, as it'll probably get lost or ruined. Also, I think it's best to keep your make-up simple, after all, the whole point of going to a festival is to see bands playing, not spending ages putting your face on. Concealer, face powder and (waterproof) mascara are all you really need. Collection 2000 and Boots' Natural Collection are both inexpensive brands, but still do good make-up for the throw-away prices. I got the Collection 2000 Aquamax waterproof mascara to go on holiday and it seriously doesn't budge. And cost about £2.50.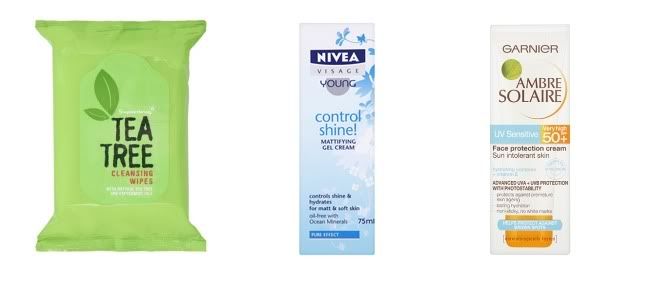 Face wipes -
Because you're going to get messy and you don't want to be sleeping in your make-up. Tea tree or Clearasil wipes that are a bit stronger than your average face wipes will help keep spots at bay whilst you're sleeping in a tent.
Oil-free moisturiser -
I know it's gross, but sleeping in a stuffy tent and being crushed in crowds with thousands of other people, you'll probably get quite sweaty and grubby, which will lead to oilier skin. Oil-free moisturiser is therefore a must. I use Clean and Clear Oil-free Moisturiser in summer and I love it. I have quite dry skin normally, and it's still really moisturising whilst keeping skin matt.
Facial sun-protection -
So so so important. Most people forget that their faces need sun cream too. You should wear AT LEAST factor 30 on your face, as the skin there is thinner and more sensitive than the rest of your body and burns more easily, especially at festivals when you're outside pretty much constantly! Also, UVA rays cause premature ageing, and who wants a really wrinkly face at a young age?
Body
Baby wipes-
The showers will have massive queues, and even if you do get up at 5am to have one, they'll probably be dead skanky anyway. Baby-wipe washes it is then. Get unscented ones so you've got less chance of attracting biting insects.
Bug spray -
You're sleeping outside, in summer. There will be bugs. Insect repellent is a no-brainer.
Long-lasting suncream -
Riemann P20 is great, you only need to apply it once and it lasts for hours. No re-application needed, which is good for when you get drunk and won't remember to put more on. Skin-care specialists advise that you don't go any lower than SPF 15, and you should ALWAYS wear suncream, even if you've got naturally dark skin or have tanned loads already. Skin cancer doesn't discriminate, anyone can get it.
Antibacterial hand-gel -
There won't be much running water, the toilets are gross, and nobody wants swine-flu* These kill 99% of bacteria, so you'll only have to worry about feeling ill from too much alcohol..
*calm down, you aren't really going to catch the swine at a festival.
Hair
All product images from
Superdrug.com
Dry shampoo -
I don't know how I lived before this. Batiste is only about £2 a can and contains more than enough to last you through the average festival. The tropical one smells lovely.
Hair grips and bobbles -
Because your hair WILL go crazy and you WILL need these.
I decided to mess about a bit and come up with some (albeit simple) ideas for easy, low maintenance festival hairstyles. Some for when your hair is still fresh and clean, and some for when it starts getting a bit grungier and needs tying up, but you want something more interesting than a ponytail.
Beachy waves and cute clips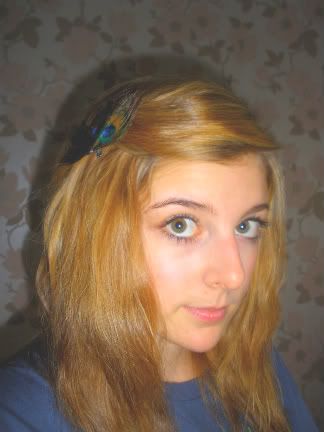 Hippy headbands and False plaits
Mini-plait and Messy topknot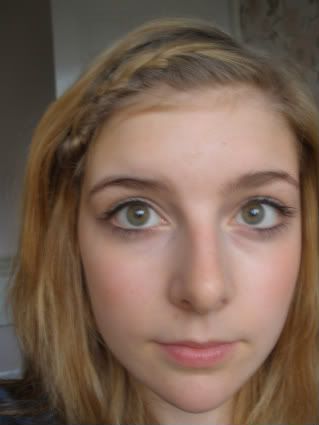 Heidi-hair (
my
favourite
)