A little while ago I was contacted to see if I'd like to choose a product from
Littlewoods
to review for The Fish Tank.
I was a little surprised at first, as Littlewoods is a brand I've always associated with grannies and twinsets, so I was unsure that they'd have anything particularly "fashion forward" to offer me. I was totally wrong however, as their new
Love Label
line is full of catwalk-inspired, brilliantly designed pieces.
I chose
this military knit cardigan
because I really liked the look of the detailing, and thought it would fit in well with both my existing wardrobe, and my
plans for the new season.
Image from Littlewoods.com
In real life it's actually a darker, more marled grey than it looks on the website, but I like that better as I feel darker greys are more versatile.
To show you how it looks on a normal, non-model type (i.e. me), I thought I'd take a few pictures and bung on a military hat I drunkenly bought for about £3 at Reading Festival this summer.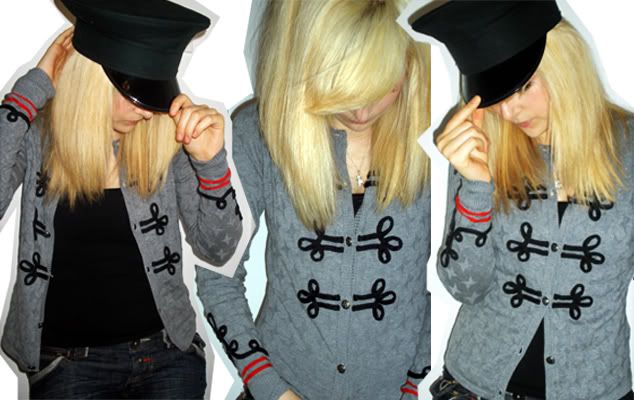 It fits true to size. Not too baggy and not too tight, and it looks good buttoned up or left undone. I would prefer it to be a bit longer, but that's just a personal preference, and a longer cut may make it lose its boxy military look, and it is quite thin, so it's definitely more of a layering piece than keep-you-warm winter outerwear.
I'm really impressed with the detailing on this cardigan. As you might be able to see from the pictures, the knit is textured in a houndstooth pattern, which I've never seen before. The black faux-frogging detail is a sort of knitted piping, and is in relief, not knitted into the rest of the cardigan, which gives even more lovely texture (which is what it's all about this winter people.) The buttons are really detailed for a high-street priced item, with a coat of arms and anchor design on them, which unfortunately I couldn't get a clear picture of. And top marks to Littlewoods for including a spare button too.
I'd definitely recommend this cardigan, as it seems to be made to a high quality for a reasonably priced item (it retails at £39). I know it's a little bit more than you might pay at some high street shops, but the details on this item are definitely what makes it stand out and worth the money. Why spend £35 on a Topshop cardigan that everyone else has too, when you could get this hidden gem and look just as, if not better?
Thank you so much Littlewoods, and to Jon, for setting up this review for me. The cardigan will definitely be getting a lot of wear this winter. Keep an eye out for it in upcoming outfit posts too!