A couple of weeks ago I posted about the
Angels Retro Sale
. The sale was last Saturday and I popped up to Wembley (well, it was actually quite a trek) to see if I could get my hands on any vintage bargains.
This is the sight that greeted me when I walked in:
It was, unsurprisingly, packed. The womenswear and accessories areas in particular were rammed. I saw, and experienced, a bit of pushing and shoving, but generally it was quite civilised.
The menswear was a bit quieter, as was the military section, which was packed with great uniform jackets and coats. If I didn't already own so many coats and jackets I'd have definitely stocked up there.
Menswear. About half of the people in the sale were walking around with military hats/straw boaters/top hats on.
Crappy picture of the military section. Really regretting not getting in on the air-stewardess uniform action now!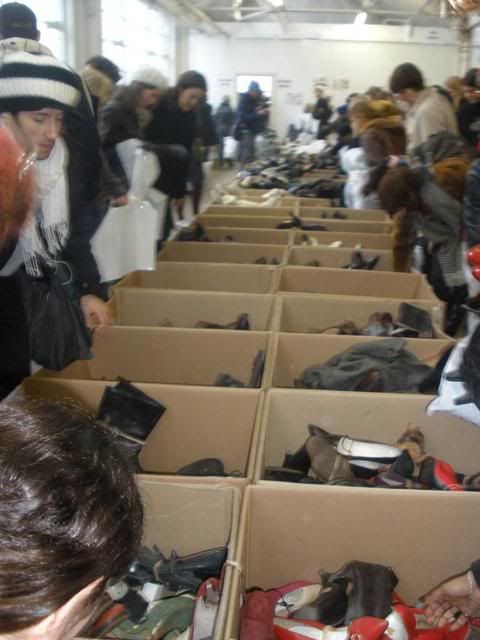 Shoes
Loads of people were picking these up. I think they were Swedish army rucksacks. So don't be surprised if you see these hairy monstrosities popping up around London!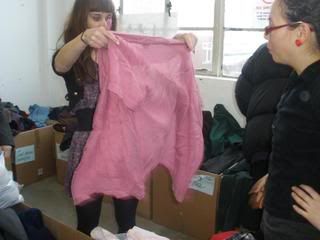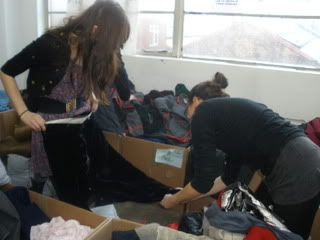 These girls were so sweet letting me take their pictures. I forgot to ask their names, but thank you if you're reading this!
At one point I was a bit fed up of being shoved around, so I walked into a slightly quieter area of boxes to get a bit of space. I was really excited when I found the boxes around me were stuffed with really cute children's school blazers. I love a good blazer, and I was determined to get at least three into a £20 bag, which i thought would be a real squeeze. At the end of my rummaging and stuffing though, I managed to score these FIVE blazers for just £20. Oh, and a weird hat. It's blue velvet and a cross between a beret and a smurf hat. Ish. I'll post better pictures of it actually on my head soon!
They haven't been ironed since I washed them, so please excuse the ugly crinkles!
Most people seemed to have found loads they wanted, and were coming out with tons of bags. I have a feeling most of the clothes will be finding their way onto eBay now though.
Did anyone else go to the sale? If so, please let me know what you got!