A couple of weeks ago I attended the opening of the new New Look flagship store on Oxford Street in London. The shop is great, four floors, including one just for shoes! And there's a Starbucks in there too so you can refuel after shopping! (I looove Starbucks!)
I took some pictures myself, but they didn't turn out so well, so I'll hope you'll excuse me for also using some pictures that New Look sent me from the launch as well:
Apparently there are 12 000 pairs of shoes on the shoe floor!
Shoe sofas!
Despite the shop being really busy, it was still a pleasant shopping experience, and the staff were all really friendly and helpful (which I presume was not only for the benefit of the press opening!) I ended up buying quite a few things, the floral high tops which I've shown you
here
, a couple of pairs of cute patterned tights, some geek glasses and a pretty embellished pink floaty tunic dress. And all at 50% off too (thanks New Look!)
I also saw Giles Deacon and had to stifle a squeal of excitement! All of the fashion-press type people there were obviously either too cool or too used to seeing designers to act as fangirly as me!
The clothes themselves in the shop were all great. I could have bought almost everything in there. And I recognised a few of the pieces I saw at the
preview day
coming in. I often hear people dismissing New Look as cheap and unfashionable, but they've really raised their game in the past couple of years. I'd say that the majority of my wardrobe comes from there, as the clothes are on trend and waaay cheaper than Topshop! I thought I'd show you a few pictures from the lookbook just to prove how on-trend New Look is for spring. I can't wait to get my hands on some of those polka dot pieces!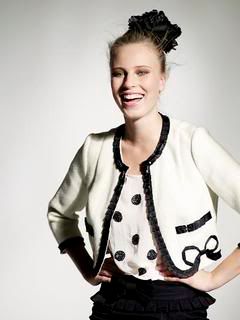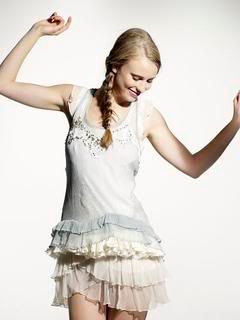 Store and look book images courtesy of
New Look