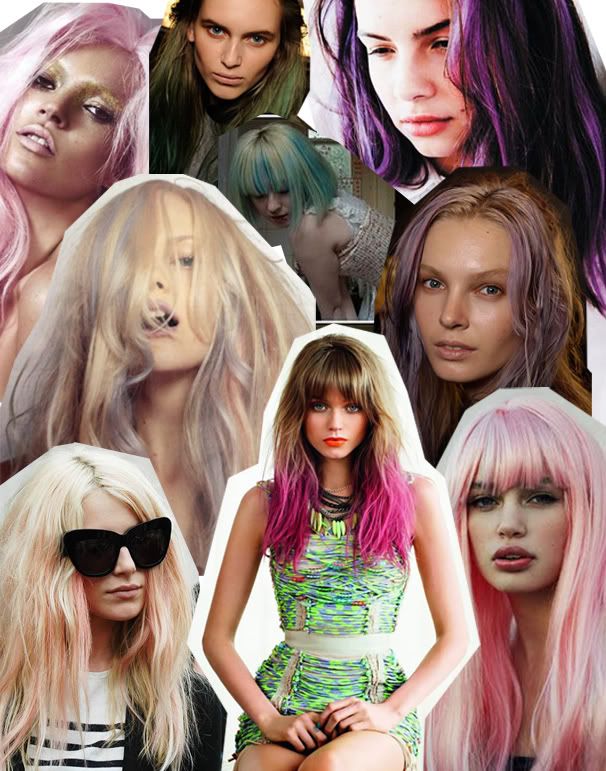 Pastel coloured hair seems to be popping up everywhere at the moment, and I want in. I'd been pondering it for a while, and then I read
this post
on Flying Saucer, and now I'm dead set on having my own rainbow hair. It would look so cute with all the
girly looks
I'm planning on wearing for spring!
I think it would work quite well as I'm bleached blonde, so pretty much any colour would show up. Now to just decide which colour.. I've been looking for some clip-in fake hair streaks so I can try the look out committment-free, but all the ones I've seen are really bright, bold colours, and not pretty pastels. Pastel hair dyes are pretty impossible to find too, but apparently if you mix a brighter colour dye with conditioner it mutes it down.
I was thinking streaks would be the best idea, and more subtle, but after falling in love with the Abby Lee for Vogue Australia shoot (like everyone else in the blogging world it would seem!) a dip-dyed look is really tempting me.
What does everyone think of the pastel hair look? Oh, and for a bit of interactivity I've embedded a poll on dye colours. If you can't see it because you're reading through a feed viewer then you'll have to click through onto the actual site to vote I guess!