So here it is, finally, my spring planning post. These kinds of posts are more for me than anyone else really, so I can get my head around which trends I'm going to be channeling this season so I don't waste money buying things I'm not going to wear.
Without further ado, my favourite collections and themes:
Christopher Kane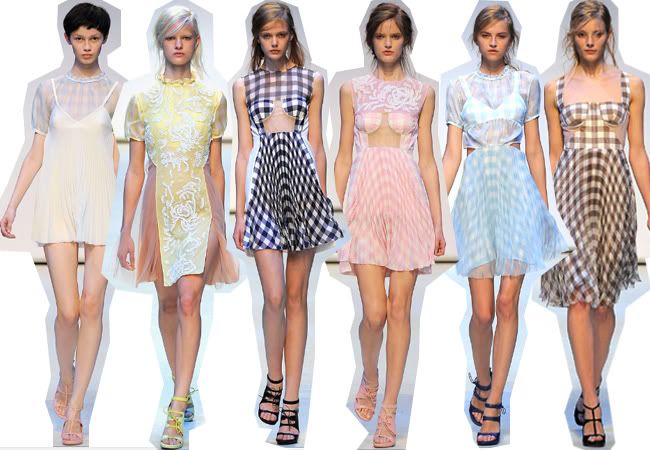 Dorothy from the Wizard of Oz when she's grown up and got sexy. The gingham and sheer panels together is so unexpected but so right!
Louise Goldin
If the Disney Princesses attended Fashion Week I think this is what they'd wear. I like the contrast between the pastel colours and the structural pleats. I need one of those cropped sweatshirts! And the shoes!!
Luella
It took a while for this collection to grow on me, but now I LOVE it. It's such a shame this won't be put into production because of the label closing down, but I've seen almost identical heart cut-out dresses popping up everywhere on the high street. It's nice to see fashion retailers aren't as fickle as financial backers!
and some more bits and bobs:
So as I'm sure you can see, I'm all over the girlish, candy-colours vibe. I've decided to name my spring plan (it has to have a name, of course!)
:
Human Cupcake.
And finally, key words to bear in mind whilst shopping:
Pastels
Polka Dots
Dresses and Skirts
Pleats
Gingham
Sheer and Floaty Fabrics
Hopefully now I'll come out with a coherent wardrobe and some decent outfits!