Last week the lovely folks over at Superdrug sent me some N.Y.C - short for New York Color - make-up to have a play with. I really wanted to do a video review, but my microphone is currently broken, so unless you can all lipread, that would be pretty pointless. So instead here's a written review, and at the bottom I've attempted a runway-inspired winter make-up look with a few of the products.
Here's what I was sent: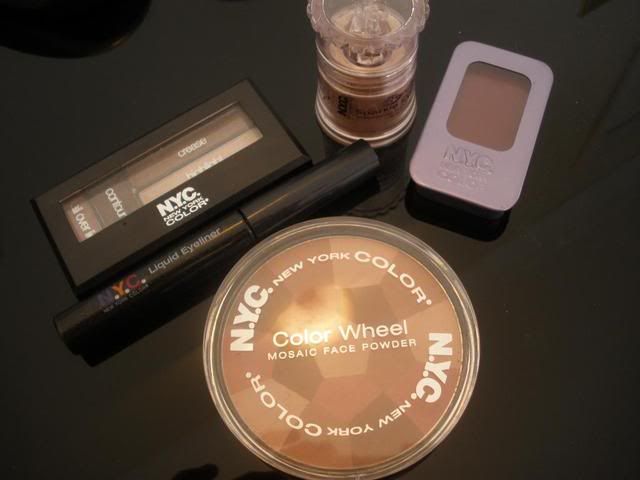 Clockwise from top left:
Metro Quartet Eyeshadow in South Street Seaport
Sparkle Eye Dust in Pink Champagne
Lip Sliders Tinted Lipbalm in Sugar Rush
Color Wheel Mosaic Face Powder in Rose Glow
Liquid Eyeliner in Pearlized Black
Metro Eyeshadow Quartet
I love this. For someone like me who has always been totally clueless with the whole "smoky eye" look, this compact is a godsend. The four different shades come with a plastic cover explaining what each is for - "All over lid", "Crease", "Highlight" and "Contour". And there's even a little diagram underneith the label on the bottom with an illustration, to make application foolproof.
I must admit, I did use my own brushes when I tried this out, as the brush and sponge double-ended applicator which comes with the palette is just too teeny-tiny in my opinion. The colours go together and blend wonderfully however, and I love how the brown shades create a more neutral, natural look.
4/5
Sparkle Eye Dust
I'm not usually one for wearing eyeshadow, as I don't feel my face can really take it that much, so I wasn't sure I was going to like this. I was totally wrong however. Don't let the word "sparkle" in the name put you off, this isn't over-the-top glittery (if you like that kind of thing I'd suggest Barry M's dazzle dusts). Instead it's a nice pearlescent shimmer, which actually has quite a matte texture. I'm not so sure about the colour being "Pink Champagne", this is more of a peachy/rose-gold colour. (It actually complements the browns in the Metro Quartet really well, so could be used with that for a more "party" smoky look.)
The soft brush applicator is really easy to use, although if you don't tap it a couple of times to get some of the powder off it can tend to go on a bit heavy. The good thing abut this is you can start with quite a sheer layer and build it up to your desired colour/shimmer density. I think I'm going to be using this on nights out from now on, as it isn't in your face, but adds a nice, subtle something extra to my usual mascara/eyeliner and naked eyelids look.
4/5
Lip Sliders Tinted Lipbalm
I had high hopes for this, I was hoping it would give a kind of lip-stain look, to channel the dark berry lips trend without having to faff about with lipstick every day, and worry about the maintenance of that. Unfortunately I was disappointed. The colour comes out as more of a bright pink than the dark raspberry/plum it appears in the tin, and you can't really build it up, as put too many layers on and it slides to the edge of your lips, leaving a weird glossy lipliner effect. Odd. On the upside, it isn't too sticky, and it both smells and tastes reasonably nice.
2.5/5
Color Wheel Mosaic Face Powder
I've always wanted a face powder like this one, where there are lots of different colours in it to be blended together. The colours in this are a pale peach, terractotta, a mid-brown and a rose. Blended together and applied lightly with a big fluffy brush, as you would with a bronzer, they do give a nice rosy glow. Careful not to put too much on if using it on your whole face though, because of the pink tones in the powder. I've also used this as a blusher, using slightly more powder, and it gives a pleasing pink-yet-tanned effect. I'd say though, because of the rose colour in the compact, this is more for paler "english rose" skins. A more brown/gold based palette would probably be better for darker skins and people who tan easily.
3.5/5
Liquid Eyeliner
Don't be put off by the colour "pearlized black", you can only tell this has a pearly shimmer if you look quite closely. Pretty much your standard liquid eyeliner here. The brush is reasonably long and thin, so it enables you to get closer to the lash line, and create a thinner, more elegant line than some liners. This being said, because the brush is thinner, if you put too much pressure on, it tends to fly off in different directions, leaving you with eyeliner where you don't want it. A little bit of practise, and a steady hand are needed to get the best out of this. Other than that it's great. The formula is not too thick, not too thin, and dries quite quickly. It does rub off quite easily though, so beware of that if you're an eye-rubber.
3.5/5
Because I wasn't able to do a video blog and show these in action, I thought I'd use them to do a catwalk-inspired make-up look for winter. I know everyone is getting excited about spring and the new season, but I'm working on the basis that until I stop almost getting frostbite waiting at the bus stop every morning, it's still winter. So I've done a winter look.
It's inspired by the dark lips, black eyeliner and heavy eyebrows which were seen all over the Autumn/Winter 09/10 runways in various combinations, and particularly by the following looks from Dolce and Gabbana and Christian Lacroix: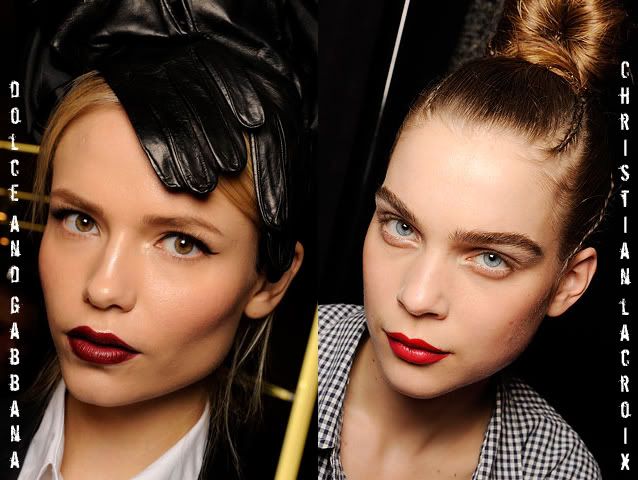 I used the darkest colour in the Metro Eyeshadow Quartet to darken my eyebrows, and Liquid Eyeliner and Tinted Lipbalm to create this look:
Other than the NYC products, I'm wearing YSL Touche Eclat concealer, Clinique "Almost Makeup" tinted moisturiser and YSL False Lash Effect Mascara. Don't use blusher or bronzer, as because this is a "lips and eyes" look, you want to keep from looking too drag queen!
Has anyone else ever tried any New York Color make-up? If so what have you used? Is it any good, would you recommend it?