Nicola Roberts, for those of you who don't know, is a singer in British girl group
Girls Aloud.
I'm going to admit it, I'm a Girls Aloud fan and I'm not ashamed. If you've been reading this blog for a while you probably know that already, as I posted about going to see them in concert last year
here.
Anyhow, Nicola is most well known for her red hair and pale skin. She seems to get a lot of unfair "ugly" comments, but I think she's really striking. About a year ago now I think she took the decision to stop fake tanning and trying to look exactly like her bandmates and "embrace the pale". She recently hosted a BBC documentary called "The Truth About Tanning" in which she explored the dangers of getting a tan. you can read an interview with her about it
here on the BBC website.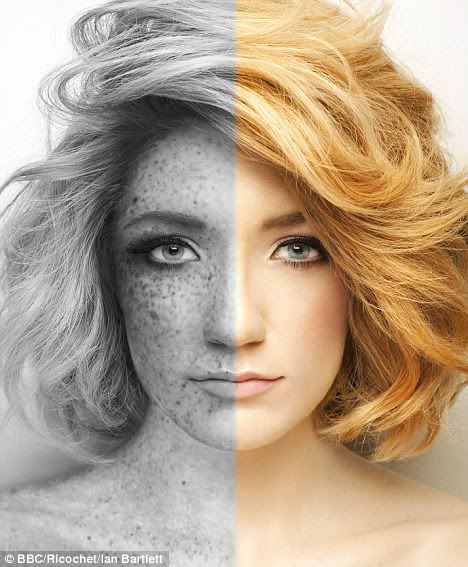 Promo shot for The Truth About Tanning
In line with her new pale look she's also released her own range of make-up for pale skin called "Dainty Doll" which is
available at ASOS.
(Although they seem to have a very limited range at the moment.)
Alongside accepting her natural skin colour, Nicola seems to have been really working on her fashion sense, and has been seen recently, especially over fashion week, looking incredible. I love how she doesn't stay away from bright colours for fear they might clash with her hair or make her look too pale, and she always looks classy, never cheap and trashy.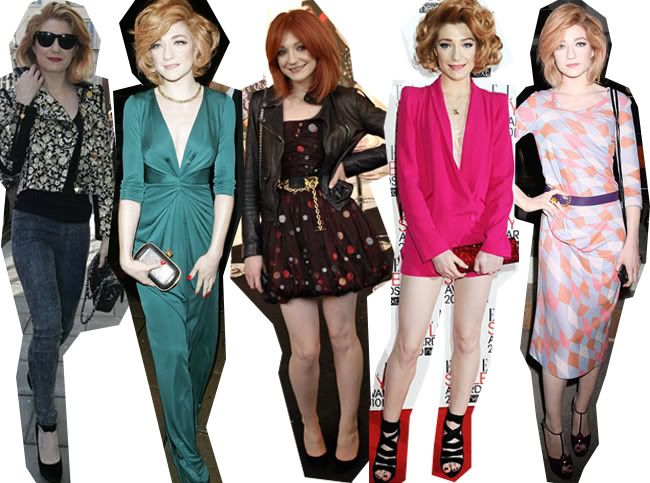 I love the pink short-suit she wore to the Elle Style Awards.
Her hair is incredible too, it's so versatile and chic. I haven't had a haircut since, um, august *ashamed* and I could really do with having a lot of length taken off due to bleach and heat damage, so I'm thinking of having a long Nicola-style bob cut in. And I might go red too, but that's one to think about.
I think it's great that as well as looking fabulous, Nicola is a real role model to her fans at the same time. Following in her "accept who you are naturally" footsteps,I've chucked out all of my fake tan and I'm staying pale (although regrettably I'm not naturally porcelain like her), and I'll be continuing in the same way through spring and summer, although the temptation to slap on a bit of colour will be strong no doubt!
What do you think of her style? Any other unashamed slightly-too-old Girls Aloud fans out there too?
All images in this post via Google Images.