I know Luella is no more, but it's been one of my favourite labels since I properly "got into fashion", so I thought I'd take another look at the last collection, Spring 2010, and see what else I could get from it. Without much else to do on a Friday night (London is waaay too pricey for students to go out on a Friday, and Friday night TV sucks), I thought I'd attempt a Luella inspired hair and make-up look.
The hair was the easiest to copy, a messy high bun and a bow. My hair isn't really long enough to put in a proper bun on top of my head and still have enough volume to be messy, so instead I put it in a high ponytail, which I then backcombed, before pinning it forwards and messing it up some more with my fingers. I pinned any major stray bits back down then pushed the whole thing more forwards from the back and pinned in place. The messier the better really. Then I just popped a bow in front and voila, Luella hair. The bow is an old, handmade one, just incase anyone was wondering.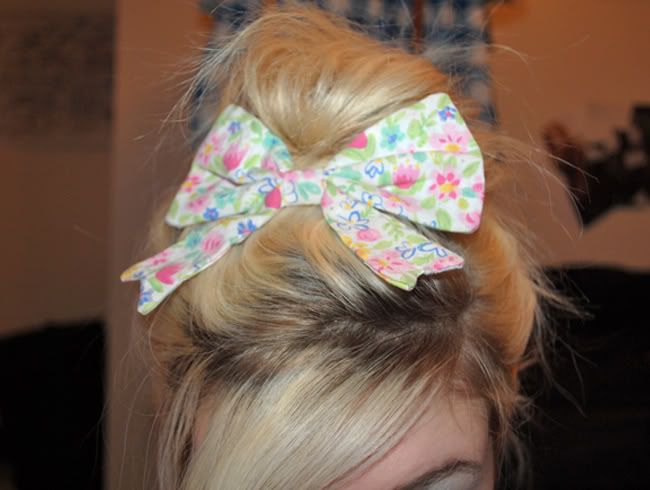 I like the block eye colours from the Luella show, but they don't really work for every day, and plus I don't have any paint-like eye colours. So I thought I'd try a more toned-down approach. This is only an *inspired* look after all. I thought the turquoise would look bettwer than red or black, so using a shimmery, sheer-ish turquoise from
this
Beauty Uk eyeshadow palette, which I received at the Superdrug SS10 press preview, I copied the "all over" the eye effect, but much more subtely. I built the colour up some more in the inner corners to show the turquoise more strongly.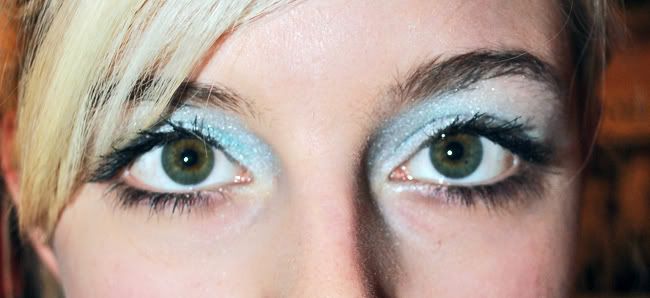 I'm not usually into bright eyeshadow, or eyeshadow at all really, because I don't find my face can really take it. I quite like this look though, and I might try the eyes for a night out some time. I really like the hair, I think you might be seeing it pop up quite alot in outfit posts from now on!