A couple of weeks ago Superdrug sent me some skincare products from their Tea Tree range to review. I decided to use them for two weeks before writing a this post, so I can give the most accurate review.
The products I've been using are:
Tea Tree & Peppermint Facial Wash
,
Tea Tree & Peppermint Cleanser/Toner
,
Tea Tree & Peppermint Moisturiser
and
Tea Tree Blended Oil
.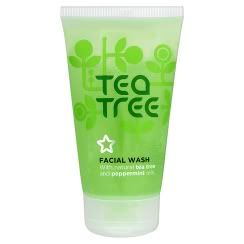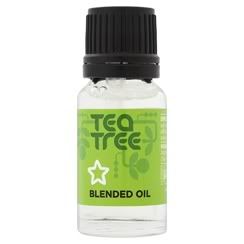 Images via Superdrug.com
Because all of the products (apart from the oil) contain peppermint as well as tea tree, they smell sooo nice and minty and fresh, so they're a brilliant wake-up in the morning.
Tea tree is naturally antiseptic, so it clears up your skin without being as harsh as the chemicals in other face products. I have naturally dry skin, and it's been especially bad this winter, so I was worried these products might dry it out even more, but I was wrong. Although I wouldn't call them hydrating, they haven't dried my skin out, in fact it's got less dry in the last couple of weeks. Probably down to the more "natural" nature of these compared to other products I've been using.
Facial Wash
This is so refreshing to use, it smells really minty and makes your skin feel squeaky clean and fresh. It has a gel-like consistancy which lathers up when you use it, but it isn't overly foamy like some washes, which I like, because it doesn't go everywhere. Also, a little goes a long way so the bottle will last for ages.
3.5/5
Cleanser/Toner
This was my least favourite of the products, in fact I stopped using it after a couple of days because it's too harsh for my sensitive skin. I found that it stung a little and made my skin feel really tight after I'd used it. It's probably best for normal/oily skin types.
2/5
Moisturiser
I really like this, it's light enough to not clog up your skin or make it sticky, but if you apply more than one layer you can get loads of hydration too. I have to put on at least two layers to stop my skin feeling dry, but that's probably down to my skin type more than anything else. It's minty and refreshing like the facewash, but doesn't sting at all. And it's also a really good base for make-up, I'm not using a primer before my foundation anymore.
4/5
Blended Tea Tree Oil
This is really good to put on if you see/feel spots coming up, it sorts them out quickly because it's an antiseptic, and because it's blended to 1% it's not too harsh on your skin. And it smells a lot better than
TCP!
3.5/5
The best thing about these products? The price. They're currently 2 for £5 on the Superdrug website, and maybe in stores too but I'm not sure, so go, buy!
Is there anything else you'd like me to review? Brands/products? Let me know and I'll see what I can do!