Horrible title, but I couldn't think of anything else. Let me off on this one?
So, every season there are a couple of slightly "odd" trends which everyone likes but which might be quite tricky to emulate.
Pastel hair
is one, which I'm still planning on exploring, give me time. The other biggie this season is tattoos.
Chanel
Rodarte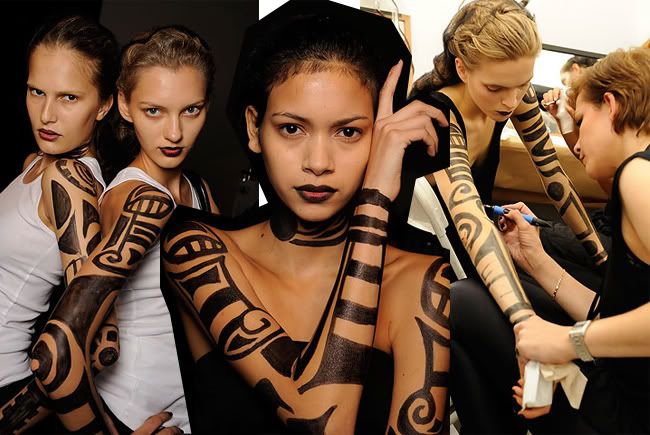 Jean Paul Gaultier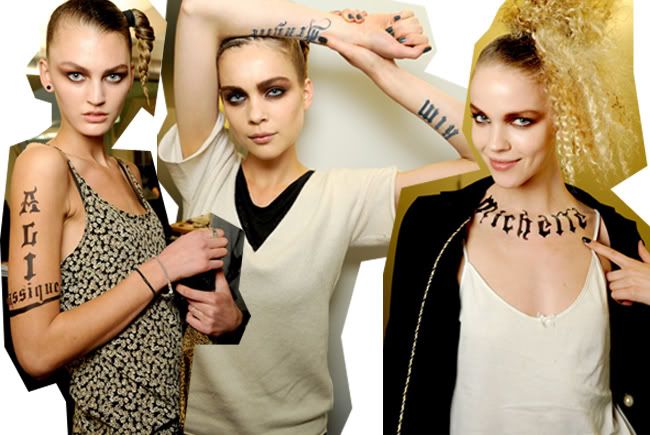 The Chanel ones are the most covetable (I can't really see myself scrawling my own name across my chest or down my arms like the models at JPG), but at £50ish for the Chanel transfers (available at Selfridges and on the Chanel website for those who don't mind splashing their cash), they aren't really affordable for me. It's a shame they aren't selling them in smaller numbers, instead of by the 50, I wouldn't mind shelling out a few quid at a Chanel make-up counter for a "necklace" or the garter around my arm.
I've been poking about online trying to find some transfer tattoos to do a cheapo version of the Chanel look, but unfortunately I can only find quite "kiddie" designs in bright colours and glitter, or barbed wire patterns and the like. Not for me. Although as
The Little Curly Girl
mentions in her brilliant tattoo post (check it out, it's a good 'un), perhaps Topshop et al will start coming out with some highstreet knock off versions. I hope so!
Although transfer tattoos may just be a one season trend, normal tattoos are a continual thing. I've been thinking a lot about them recently and I'd like to get one of my own. It's not a decision I'm taking lightly, I've been thinking about getting a tattoo for about 2 1/2 years now, so I'm convinced I'm making the right decision and that I won't regret it. I've got three in mind that I'd like, but I'm only going to get one to begin with. Whichever I get it will be small and discreet, not that I'm against large or obvious tattoos, I love them on other people, but I don't want one myself (although having a sleeve would be pretty cool!)
I love seeing pictures of models' tattoos, which are usually small and pretty and not hugely obvious at first glance - exactly how I want mine to be.
What are your opinions on tattoos? Temporary or permenant. Has anyone tried the Chanel tattoos? Or any other transfers? Or do you have a real tattoo? Let me know!
Image via The Cut