I'm a complete mascara addict. I consider my eyelashes to be my best feature (which is slightly tragic I know), but they're quite long and thick so I like to play them up and I never leave the house without mascara on. So when Superdrug asked me to review the new
Maybelline Volum'Express "The Falsies" mascara
, I jumped at the chance.
The mascara is supposed to create the look of false lashes without the faffing around that is involved with falsies. The latest thing with mascara seems to be weird shaped brushes, and this one is no different, with a "spoon" shaped brush which has shorter bristles on the flat of the "spoon" and longer ones on the edges.
This is definitely not a mascara you can apply in a rush. It's quite thick, and has those little fibre things in it to help build length, so if you just slap it on it clumps and sticks your eyelashes together easily. However, if you take your time with it, you can get a really great result. I found the best thing was to make sure there was no excess mascara on the brush, then apply two coats using the flat side of the brush, letting the first dry slightly before the sencond, then use the longer bristles on the side of the brush to fully separate your eyelashes and lengthen the ends some more if you'd like.
The picture doesn't really do it justice - I know it looks quite clumpy there but it isn't. (I'm not being paid to do this post, and I wouldn't lie on here anyway.) You get super long, fluttery lashes, and although they might not look exactly like false lashes, (because you don't have the extra thickness given by effectively having two sets), they're close enough! I love how dark the colour is, I love a super-black mascara, and although it isn't marketed as waterproof it stayed put in the rain. It isn't too difficult to remove either. The only negatives that I can find with it is that it looks rubbish if you apply it quickly, and that it takes quite a while to dry, so I've accidently smudged it across my face a few times.
It's on offer for £5.99, normal price £7.99 on the
Superdrug website
right now (and I presume in the shops too) so if you like the look of it then I'd get it now!
And just for good measure I thought I'd chuck in an outfit too: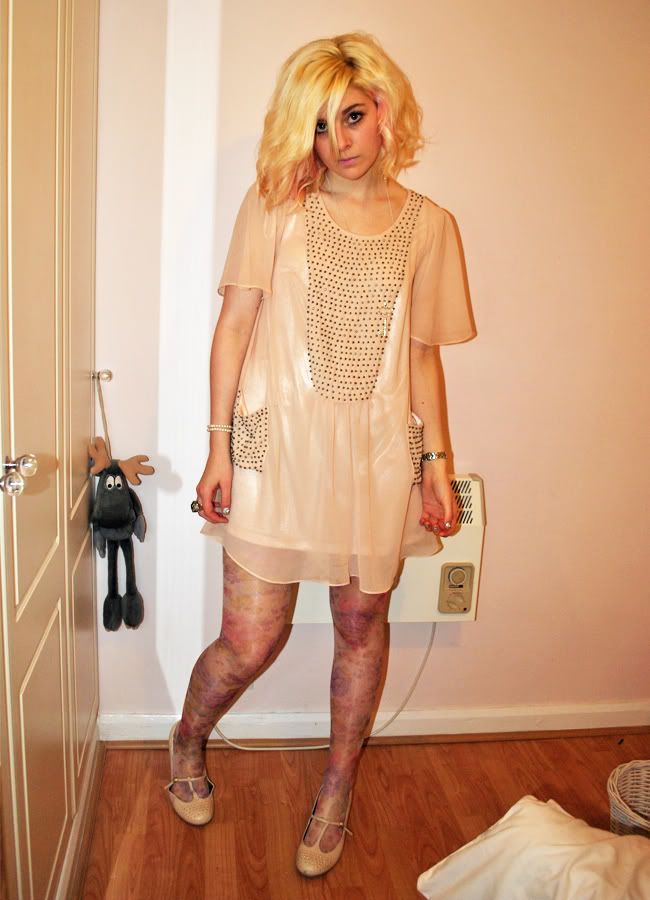 Dress, tights and shoes - all New Look
I wore a lovely lace jacket from H&M with this too but didn't get a picture. I get the feeling it'll be worn to death this spring though so it will pop up sooner or later on here I'm sure.