I'm sure most have you have already heard about the
H! by Henry Holland
collection at Debenhams, so I'm not going to introduce it. Instead I wanted to show you the pieces that I got from the line, because I love them.
This
'purple ditsy playsuit'
is adorable. I've been wanting a playsuit for ages, and this one is great. I love the culotte type shorts and the fact that it has a mixture of spot and flower patterns. Because the print itself is already a mix, I thought I'd go for even more patterns in the rest of the outfit with my heart polka dot tights (New Look) and leopard print flats (Asda). The
skull ring
is from the collection too. I've been looking for an affordable skull ring for ages, and this one was only £8.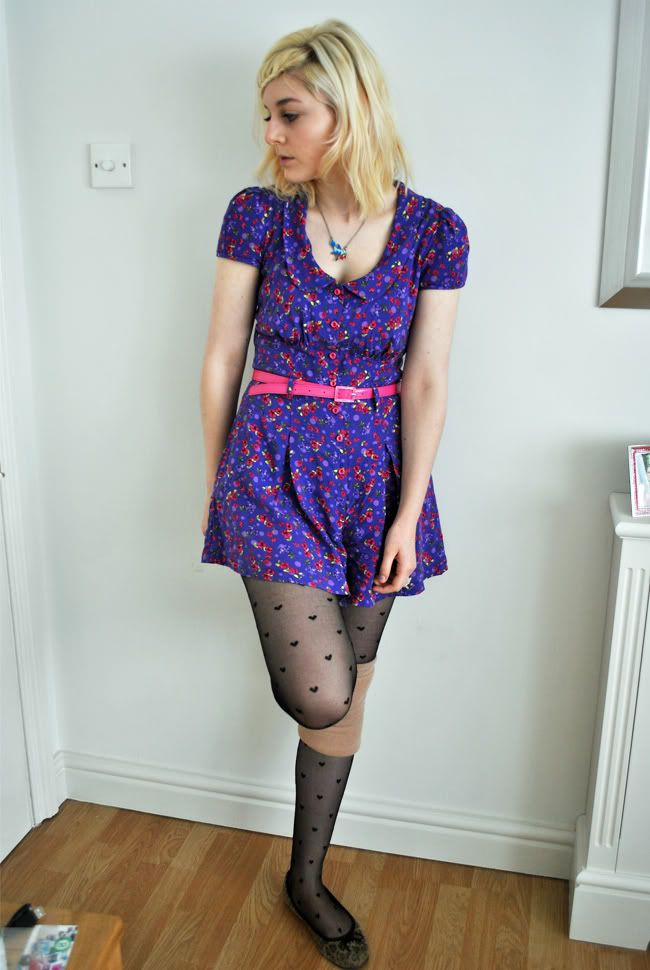 The only problem with the H! by Henry Holland line that I found was the sizing. It's all over the place. I'm usually a pretty standard size 10, but the playsuit is a size 12 because the 10 was tiny, but I tried on
this dress
in a 10 and it was massive, and
another dress
in a 10 fit perfectly. Very strange.
Oh, and if you've noticed the knee support, that's there because I've torn the cartilage in my knee. I'm not allowed to run or dance or anything like that for at least four weeks, so I've had to defer my place in this year's London Marathon. I'm gutted, but what can you do eh? So expect this ugly knee thing to crop up in outfit posts in the next few weeks. I could take it off I suppose, but I don't really want to mess about with it too much.