Last week I received a mysterious email asking me if I would like to attend an evening to view the brand new fashion collection from "one of the UK's top retailers". Apparently the whole event would be kept shrouded in secrecy until the actual night when all would be revealed.
So on Tuesday I ventured into central London, not really knowing what to expect, and arrived at the address I'd been given, which at first I thought I must have got wrong because the building looked to be a small terraced house. But no, I was right, and when I entered I was whisked upstairs and came face to face with a wall covered in the F+F logo. I was really surprised, as although I was well aware of F+F, Tesco isn't usually the first shop which springs to mind when you hear the words "fashion retailer"!
The whole evening turned out to be wonderful however, for as well as getting to preview the two new F+F ranges (more on those in just a second), I also had my nails done by one of the girls from the much-talked-about
WAH Nails
(another post to come on this), and also got to meet lovely bloggers
Sherin from HiFashion
, and
Gem Fatale!
Enough of my rambling and on to what this post is supposed to be about, the new F+F ranges. You may have already heard about F+F Couture, as it's been featered on a few other blogs and in magazines. It's a premium collection, designed to be catwalk-worthy, but unlike other brands "catwalk" collections, it isn't based on anyone else's designs, these pieces have been designed specifically for F+F Couture. They even had a show at London Fashion Week, which you can watch in the video below:
Unlike the other F+F ranges, these pieces aren't cheap, they retail for between £40 and £140, but having seen them close up, the level of detail and design, and the quality of the fabrics makes them well worth the prices.
Some of my favourite pieces from the range:
Sequin jacket
,
Extreme striped shorts
,
Extreme denim jacket
.
I also love this
pagoda dress
, which is the standout piece in the collection.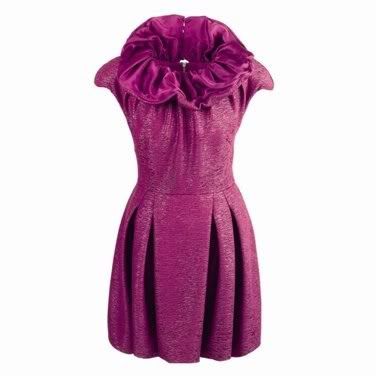 It felt really heavy on the hanger but I tried it on and it's actually super comfy. The inside is kind of stretchy and elastic so it holds you in and keeps the dress structured. And there's wire in the collar which you can bend around to alter the shape and position. I even got a biscuit version: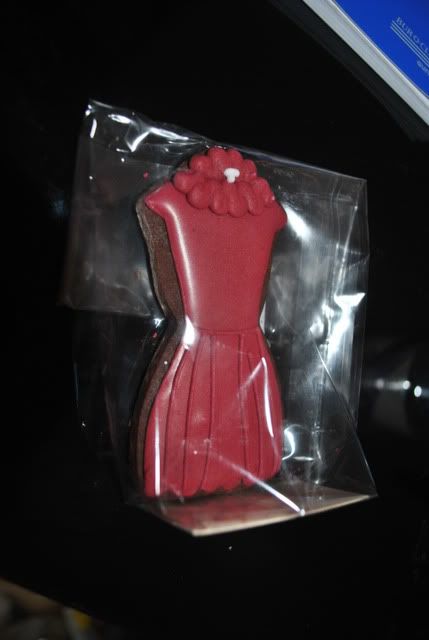 In addition to the Couture line, and the reason why the event was so top secret, Tesco have also launched a new F+F Trend line, which was only unveiled to the press on the day of the blogger event. This line is aimed at the "Topshop generation", teens and people in their twenties, as the clothes are on-trend and affordable. The first collection of summer wear will be launching soon, and there are some real gems in there. I love the leopard print harem jumpsuit, turquoise oversized leopard print skirt and the digital print dress. There are loads of cute lantern skirts and body-con dresses in the collection, and the best thing is that it's really affordable. The dresses are all about £12-18!
And the normal F+F range has some great pieces too, lots of which are designer-inspired. I spotted this lovely
Luella-esque
strapless dress and
Alexander Wang
lookalike jumper (click to see runway pictures of the designer pieces these were inspired by!)
All the F+F ranges and products are available online
here
.
And one final thing, I got my own
sparkly pink cupcake!!!
Three of my favourite things in one!!
I'd like to say such a big thank you to Tesco and the wonderful girls from We Are Social for putting on such a great event!