I've been buying a lot of girly, patterned, lacey etcetc pieces recently, in line with my
Spring planning
, yet as much as I love them, recently I've been feeling like they aren't exactly 'me'.
I've always been into t-shirts, usually graphic ones, and although I used to have quite a collection, I don't seem to have as many that I really love anymore (due to having to chuck a load of faded/stretched out/holey ones away). So I've decided to re-build my collection.
I'm really feeling oversized t-shirts recently, they're so easy to throw on over crazy patterned short shorts (I've worn my
Primark tartan ones
almost to death), or interesting leggings (velvet, slashed, lace etc) for an outfit that's comfy yet still cool.
Although you can find cool t-shirts in most high street shops (especially the men's sections!), I thought I'd do a little post on the slightly quirkier ranges and designs you can find on the internet.
Most people have probably heard of, or even own, one of the Blogger-designed range for
Borders and Frontiers
, which are now
available at Asos too.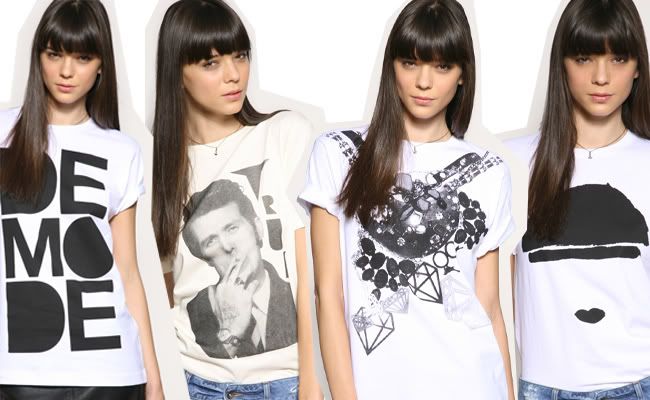 Left to right: Fake Karl, Kingdom of Style, Stlye Bubble, Style Rookie.
I own the Igor & Andre one, which I did a post about aaages ago
here
.
Print Liberation
is a company which I found out about via
Daddy Likey
. Print Liberation is a small, independent advertising firm, who also do great t-shirts. A lot of their designs are irreverent and/or political, but are mainly really fun. They do men's, women's and unisex designs, as well as accessories and other bits and bobs.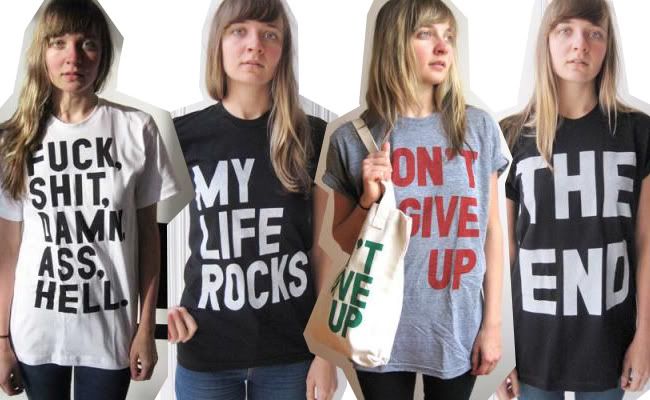 I've ordered the "Don't Give Up" and "The End" t-shirts, but I love these other two as well. I'd be worried that the swearing one would offend too many people though, and I'd only wear it at night because it's hard to avoid little kids in the day. There's a "My Life Sucks" as well as the "My life Rocks", and i can't decide which one I want more. My life doesn't suck, but I think wearing "My Life Rocks" is a bit up yourself maybe?
Anyway, these are all really resonably priced too, between $16-$22, which is mega cheap in pounds at the moment, and shipping is quite low too (can't remember how much, but I got free shipping on my $40 order).
T-post
is "the world's first wearable magazine". Basically, each month they choose an interesting news story (usually something a bit crazy, and non-too-serious), and ask an artist (who is different each month) , to create a graphic to go with the story. The graphic goes on the front of the t-shirt, and the story is printed inside. It's a really cool idea. Here's a video explaining a more comprehensively how it works:
T-post is a subscription service, so you can't buy the t-shirts individually, as they're printed specifically for subscribers. If you like the look of
what they've done already
though, and have 19 euros to spare every 5 weeks, I'm sure it would be quite fun to see what pops through your letterbox.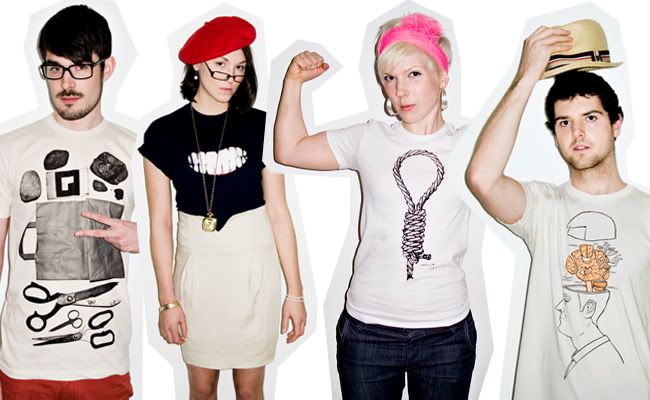 The guys over at T-post were kind enough to send me
a "back issue" to try out
, and I can say I was impressed. The t-shirt is great quality, I've washed it a ton of times and it hasn't faded at all, and the graphic is really detailed. You can tell it's been done by a professional artist!
No picture of me wearing it because it's in the wash at the moment, but I promise I'll feature it in an outfit post soon. In the mean-time, you can see the same t-shirt in action over on
A Daisy Chain Dream
.
Does anyone else have any t-shirts from any of these places? Or any tips for other places I can look for cool t-shirts? How do you style yours? Let me know!
Images from Asos.com, Printliberation.com and T-post.se