Clogs are the shoe of the season (or so Grazia et al tell me) and seem to be popping up everywhere. Loads of bloggers are making them look amazing at the moment, but I'm sure lots of you are like me in feeling slightly dubious about whether or not jumping on the band-wagon is a particulary sartorially sound idea. After all, only a few months ago clogs were classed by pretty much everyone as ugly.
So, after a bit of absent-minded musing on the whole clog situation, I decided to have a bit of a scout around to see if there was a way to get in on the clog trend without wearing actual clogs. And now, I present to you, my Top 5 Clog Alternatives. I've tried to find shoes which keep that rustic, traditional, chunky cloggy vibe, but which will also last longer than one season.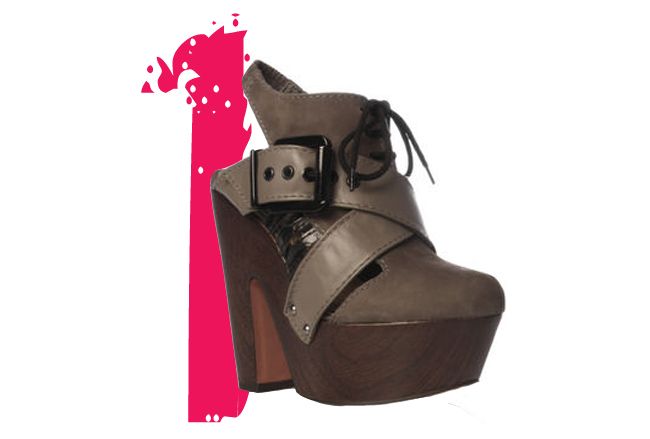 5 - Topshop Rula Bandage Sandals
These are the least "cloggy" for the most clog-phobic amongst us. They still have an element of clompiness in the thick heel, and the sling back is reminiscent of many clog styles, but the a-symmetrical strap detail keeps them looking more modern than clogs. £65.
4 - ASOS Howie Suede Double Buckle Clog Platform Sandal
Ok, so these have the word clog in the name, but I don't think they can
really
be classified as clogs. They have the stud nail detail which hints towards the clog style, but the open toe and buckles keep this shoe looking again more modern. I really like how they're suede as well, that's a nice detail. They also come in brown but I wanted to show that you don't have to always have brown shoes to channel the clog look. £55.
3 - Office Big Fun
I love these, they're like completely closed clogs only not. (Wow, great description there...) The nail stud detail is very cloggy, can also be viewed as simply an interesting extra design feature on a simple pair of platform heels. I think this style especially would stand the test of time. Also comes in black. £75.
2 - Nine West Big Baby Patent Cork Platform
These have a chunky clog-like platform but are then have quite a delicate upper. Red and patent isn't what you'd normally expect from a clog either. These also come in patent black but I think the red is really fun. £85.
1 - KG by Kurt Geiger Hadassah
If only I have the money for these. I realise these might not be to everyone's taste, but I think they're amazing. They have the chunky platform associated with clogs, some nail studs and a closed round-ish toe, but the extra detailing takes these away from traditional and more towards omgIwantitnowwww! On paper a massive platform, straps, buckles, lace up and crocodile-skin detail may sound like a horrible jumble, but in reality (for me at least) these work. £160.
Obviously this isn't an exhaustive list by any means, and you may not like any of the shoes on it, but I hope I might have given ideas to some people about how they can get in on the clog mania going on at the moment without committing totally to what could be an expensive one-season-wonder shoe. To wrap up, here are some features to look out for in shoes that make them a little more clog-like:
1 - chunky and/or wooden soles
2 - a closed, rounded toe
3 - brown leather, the more "authentic" and rustic looking the better
4 - nail-head stud thingies (no idea what the proper name for these is..) Maybe you could ask your cobbler to put some into a pair of shoes you already have?
I'm still deliberating over clogs myself. I'm worried that if I commit I'll be paying a lot of money for something I won't end up wearing for very long, which as a student I can't really afford. I think I might just stick to the shoes I featured in
this wish list post
, but here are some clogs I love too..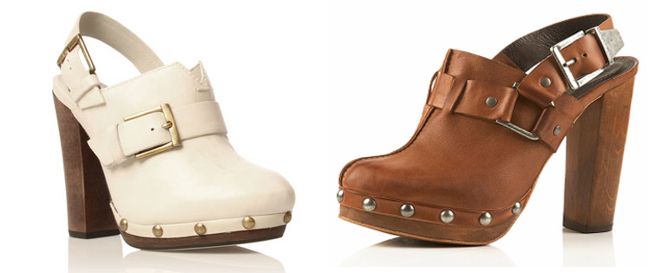 Carvela "Ash"
and
Topshop "Prima".