As I mentioned in my post about the Tesco F+F collections blogger event, whilst I was there I had my nails done by one of the girls from WAH Nails. They're known for their bright and crazy designs, and they will do any design you ask for on your nails, but I didn't know what to choose so I let my
manicurist
nail
artiste
decide.
I'm glad I did because she went for this amazing "POW" popart design. How cool is that!?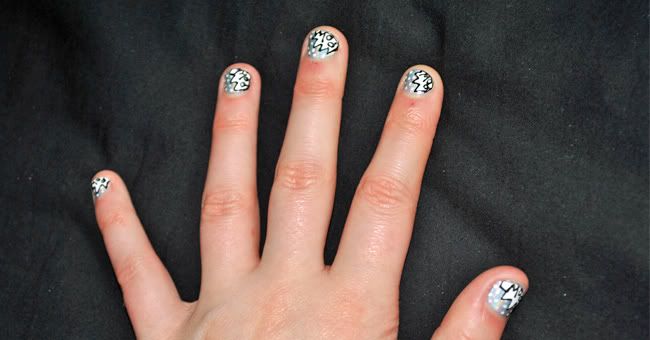 You can't really see in the pictures but the base colour is a holographic silver, it goes all sorts of colours in the light. I never want to take it off/have it grow off.
WAH have a salon in Dalston, (
see their website
for more details) but have also now opened a concession in Topshop Oxford Circus. I'll definitely be going soon, I really want to try their leopard print design too. And don't worry if you have really short nails, mine were all manky because I'd been a bit stressed and bitten them all off, but they came out looking lovely in the end! Oh, and they also do the Minx heated-film-type-coating manicures
as seen on WendyB
.
Finally, you
have
to check out the
WAH Nails tumblr
, the girls are constantly uplaoding pictures of all the amazing designs they create.