I was reading some magazine or other recently, I think it might have been the Asos magazine, and there was an article on
Paloma Faith's
wardrobe. I'm not the biggest Paloma Faith fan, I hate her song "New York" with a passion, but I noticed she had a collection of amazing sparkly platform heels. In the interview she said they were from a website called
eveninglady.co.uk
so I thought I'd have a look.
Evening Lady caters mainly for burlesque, pole and exotic dancers (so as well as shoes they sell lingerie etc), and a lot of the shoes look a bit tacky, but I managed to find the style of shoe that Paloma Faith wears. They're
Bordello Teeze
shoes by a brand called Pleaser, which makes shoes for dancers, so they're supposedly a lot better quality and can stand up to more wear and tear than normal shoes.
I'm kind of overwhelmed by the amount of colours and styles and finishes they come in. The image below only shows a small number of
what is for sale.
And the best bit is that they're not massively expensive. They cost from about £50 for the plain and glitter styles, to around £90 for the diamante/rhinestone styles, which is a lot less than what you'd pay if these shoes were in Faith or Office. Don't those red ones look like a modern day Dorothy's ruby slippers?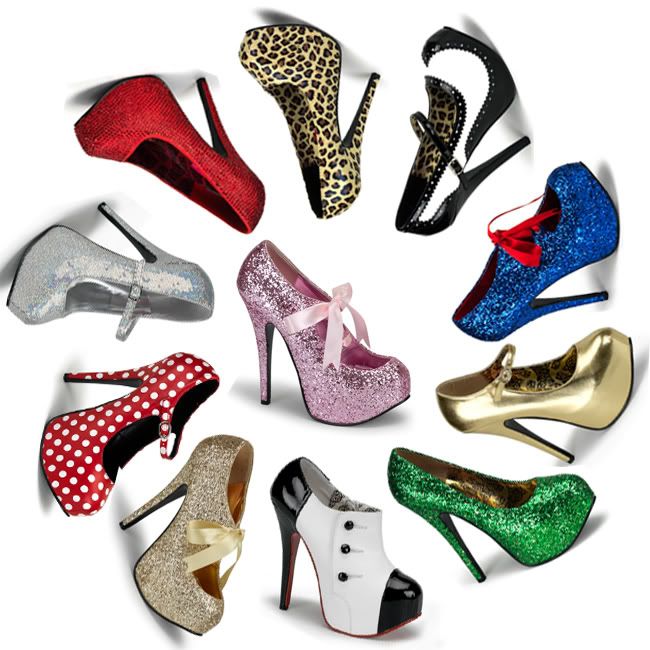 Images from eveninglady.co.uk
When my next student loan installment comes in, and I'm no longer completely broke, I'll definitely be ordering a pair of these. I just need to choose which ones! Any suggestions?