Even with different ways of mixing and matching pieces, I'm probably still going to get bored of wearing similar outfits from my capsule wardrobe pretty quickly. Because of this, I'm going to make sure that I have a ton of great accessories and jewellery that I can mix up outfits with a bit more.
To go with the whole grunge aesthetic, I really like the idea of quite gothic-looking jewellery, so I'm on the lookout for cross pieces.
In
The Craft
, (which I posted pictures from in my first post about constucting this wardrobe and grunge style,) one of the girls Nancy always wears a black crucifix, which I think looks really good.
Asos are selling a similar one in the men's section at the moment, and I like
Llymlrs'
version which is
made of red knotted cord
.
I'm not too sure if I'd feel completely comfortable wearing a crucifix for fashion purposes though, as I know how important they are to Catholics, and I wouldn't want to disrespect anyone or offend them because of their religious beliefs if it could be avoided. I think it's less of a problem with a simple cross, as that has made its way into acceptable 'everyday' jewellery already. What do you think about religious jewellery being worn for fashion?
Another potentially controversial piece of jewellery is this
cross stash necklace.
It's similar to the one that SMG's character Katherine Merteuil wears in
Cruel Intentions
, which is one of my favourite films. (I also love Dangerous Liasons, the book which it's based on. Definitely read it if you get the chance. it's a masterpiece.)
Image from
schwarz-collection.com
This is the best picture I could screen-shot.
I'd just like to point out at this point that I am really anti-drugs. I never have and never will take any form of illegal drug, and I think anyone who does take drugs is incredibly stupid.
I just think the necklace is cool because I love the film, and I also kind of love Sarah Michelle Gellar, because Buffy the Vampire Slayer remains to this day my favourite tv show. I've seen every episode so many times and I frequently have Buffy marathons with my box-sets in the holidays. Also it ties in with Buffy with the whole vampire/cross thing, and obviously Buffy is never without her cross necklace that Angel gave her. Ok, enough of the geekiness now.
Fellow mega-fan
Wendy Brandes
has even designed a
ring inspired by Spike
. Now that is true dedication to BtVS! She's also created a
stake necklace
, which I want to describe as "cute", but somehow that doesn't sit well as a description for something that's function is to turn vampires into dust (or a bloody, gloopy mess if you're a True Blood fan. Which I also am.)
Images from
wendybrandes.com
I love these two-finger rings from Nasty Gal in
black
and
turquoise
too.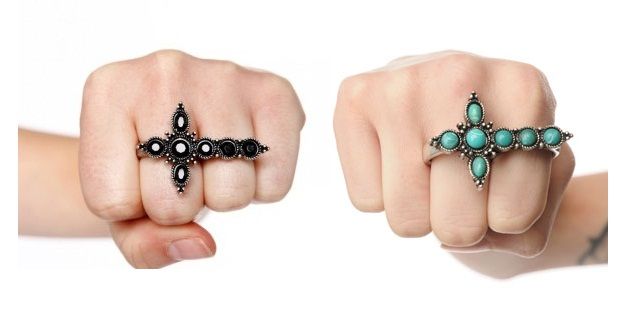 Images from ShopNastyGal.com
Which colour would you choose?
And finally, I know this isn't jewellery, but it is something I'm going to be treating myself to. An Alexander McQueen skull scarf. I've wanted one for years, and I'm working this summer so I'm saving up so that I can finally afford one.
Once I've got this, along with
my handbag
, I'll be on the way to building up my own little McQueen collection :)