*This is quite a wordy post, but I've realised I come across as more natural if i just write as if I was talking, and I don't want to be one of these fake, preachy sounding bloggers. If it's too long or you don't like it, let me know and I'll work on my writing style!*
Unless you've been living in a cave without internet access recently, you'll probably have noticed that nails and nail art posts have been slowly taking over the fashion blogsphere.
I've always bitten my nails so I rarely paint them, and even if I do try to grow them one of two things happens, either a), they tear off really easily because they're so weak, or b) I get stressed out and bite them off without even realising. This happens alot over exams and revision.
Uni is finished for the summer now, so I'm back to working full time in a defence logistic engineering consultancy type place, which is not usually very glamourous, but the other day I noticed that one of the admin assistants had the prettiest long pink nails. They were so long and uniform that I presumed they were gel nails, but she said no, they were all her own. So we got chatting about nails, and I told her that I wanted to grow mine but they were really weak. She recommended
Nailtiques
to me, and at first I was unconvinced because I've tried loads of nail strengtheners before with little effect, but she assured me that loads of her friends swear by it now since she recommended it, so I decided to give it a go.
Long story short, it's really really good. My nails feel a lot stronger already after about a week using it, and they're growing really well. The only downside is the price, this stuff is not cheap! You can get some better deals from Amazon and eBay though, so it's worth having a look there, rather than buying from the actual website.
So now my nails are a bit longer and sturdier, I thought I'd finally try out leopard nails à la
Gem Fatale.
I know everyone has already done this and I'm late jumping on the bandwagon, but it looks so cool!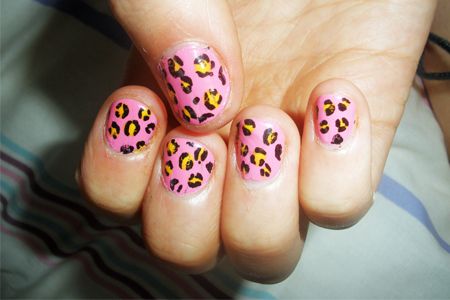 I used Barry M colours in Bright Pink, and a yellow that didn't have a name. It was actually easier than I thought,
Gem's tutorial
is really easy to follow. It's a bit dodgy and wonky and smudged, but not bad for a first go I don't think.
Then I found the brilliant beauty blog
Forever the Ugly Duckling
via Models Own, and saw this amazing leopard-print look. It turns out it was done with something called Konad nail stamping.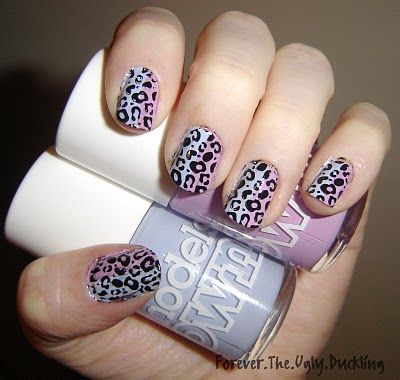 I've only vaguely heard of nail stamping before, so I had a quick google. It's a way of doing nail art that involves stencil plates and stamping. You apply polish over the design you want on the design plate, wipe off the excess, transfer the polish in the pattern to a stamper tool than stamp it on your nails. It sounds confusing but it doesn't really look too hard. This video explains it:
After looking through the archives of Forever the Ugly Duckling and seeing
all of the amazing Konad designs she's created
(definitely go have a look if you like nail art) I decided to order the leopard print plate, M57, and the stamper set.
Each plate comes with a few different designs, and I like the zebra one on this too. I got mine from eBay, but there are quite a few dodgy looking sellers on there, so if I get any more I'll try Amazon instead I think. The Konad website says you're supposed to use their special polish for stamping, but after googling I've seen a few people claim that this isn't true, so I'll have a go with normal polish first. I'm really excited for this to come now!
Has anyone else tried using Konad before? What did you think of it?
Edit: not related to nails at all, but I wanted to let you know that there's a great giveaway going on at The Girl With The Chanel Necklace, where you can win a beautiful Azendi silver pendant. Go enter!