This last weekend I've been staying with my Nan and Pop in their static caravan near Eastbourne because it was Eastbourne Airbourne. Airbourne is the UK's largest coastal air show. I'm hardly a massive fan of planes, but the air show was actually great. There were about 5 hours of non-stop flying each day, with loads of different types of plane, from bi-planes, to RAF jets, display teams, parachutists and even a waterbomber used for putting out forest fires (not in the UK obviously..) The day finished with an incredible 25 minute display by the Red Arrows, and then a Spitfire and a Messerschmitt re-created a dogfight to commemorate 70 years since the Battle of Britain.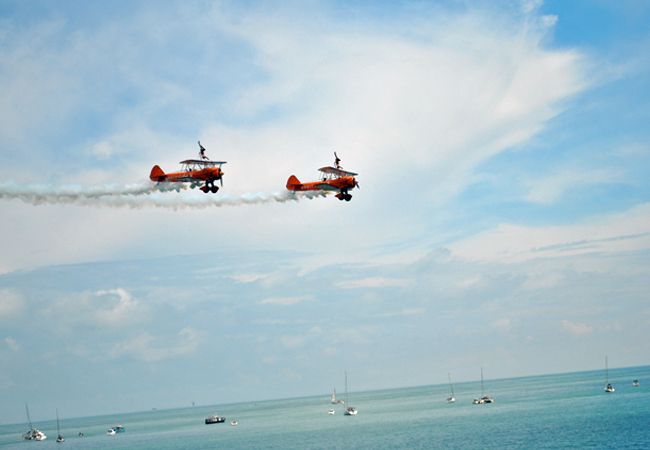 Those are wing walkers doing handstands! They were doing all kinds of acrobatics whilst the planes were zooming around, they even went upside down and managed to touch hands, and they climbed out of their harnesses and sat really close the the propellors at one point!
The Blades display team was really exciting. They fly so close to each other and do amazing stunts.
Of course this isn't just a post about planes, here's an outfit too:
My hair looks awful because I took this at the end of the day, but it was nicely curly in the morning.
The cardigan is new and from Topshop. I've been searching for a baggy grandad cardigan for ages, but on eBay they go for such ridiculous prices. This wasn't cheap at £48, but I know it fits (even though it makes me look about 2 stones larger than I am in this picture) and it will be perfect for autumn. I finally found some high waisted shorts that fit too. They're also from Topshop, and I was surprised when I tried them on because their "high waisted" shorts like these usually fall way below my belly button, but these didn't. So I bought them, and when I got home and looked at the label I saw they were actually from the "Tall" range. Sorry Topshop but I'm not tall! At 5ft7 I'm hardly a midget, but I shouldn't have to get Tall clothes to make them fit!
Other than that, the tights are from New Look and the top is from Jack Wills, it was part of my uniform when I worked there.