Continuing from my post on
gothic, grungey jewellery
, I bought this cross ring for less than £2 on eBay. The two finger ring isn't exactly gothic or grunge, but I do love it. It's from Urban Outfitters.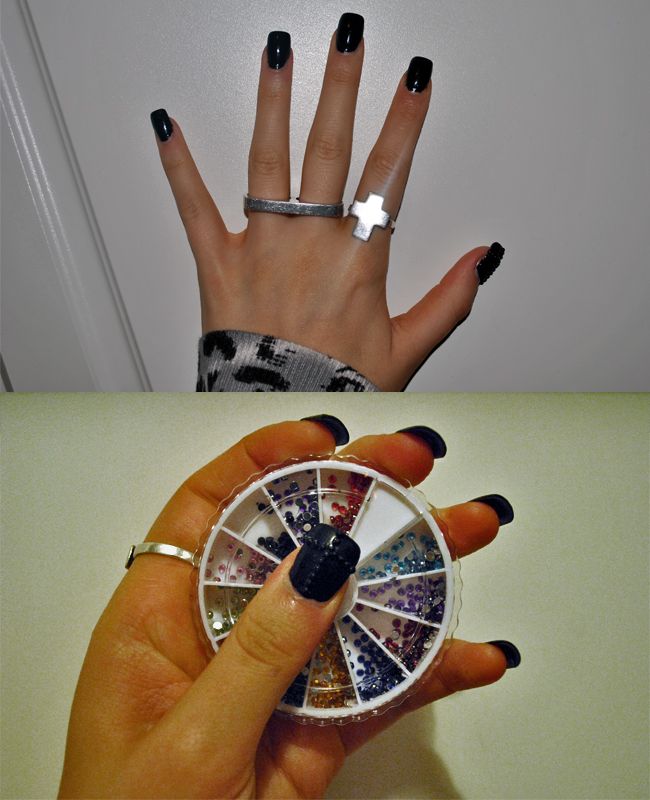 My hand is NOT that jaundiced looking in real life. I couldn't get the colours right without losing the detail on my nail.
Then I was watchng True Blood yesterday (it's getting so good! but I don't like all the dreamy fairy nonsense, though I'm sure that will be explained soon enough), and I felt inspired to do some "dark" nail art. Et voila. Black nails with black diamante crosses. I got this wheel of nail art diamantes on eBay for £1 including shipping, and another one which is "pearls" of all different sizes. I've got gel nails now (thanks to
Selina
raving about them) and now I'm obsessed with doing my nails and nail art. Next on the to-do list is acrylic paint gradient nails
à la Kylie.