I've got quite a few "going out" dresses, but nothing that really qualifies as the must-have "LBD". That until
Rare Fashion
contacted me and asked if I'd like to pick something from their label. I've already got
one dress from Rare
which I really like, so I didn't think I'd have trouble finding another I wanted. In fact I struggled to choose just one item, because the range on the website is just huge. There are hundreds and hundreds of items, not only dresses but tops and knitwear and jumpsuits. I love the dresses especially though. They're all really pretty, and there's something for everyone, and they won't break the bank either, with most costing between £35 and £60.
I finally decided on the
Mesh Tube Dress
in black, although it comes in cream too.
I was a little bit worried that it wasn't going to fit, mainly because of the
sizing issues I had
with my other Rare dress, that it was too big on the bust. When I unwrapped this dress however the whole thing looked tiny, and I was sure that I'd never fit in it. The fabric is really stretchy though, and reminds me a bit of control pants, so it holds you in, then the mesh fabric drapes on top. Because of the shape of the back you can't really wear a bra with it, but the top is double lined and boned, and I didn't feel at any risk of exposing myself in any way.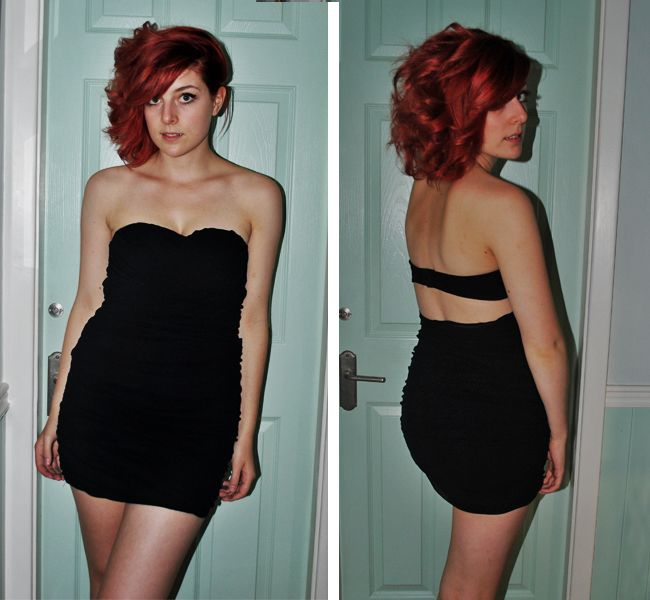 The one thing I will say is that I feel that the mesh overlay, although really pretty, makes me look quite wide and bulky, and like I don't have a waist, so maybe a belt needs to be added. Other than that I really like the dress, so thanks Rare!
I had a bit of a mess around with my hair to try and come up with a new hairstyle, and creater this curly on one side swept over thingy. I kind of like it, but I think it's maybe a bit too 80s. Meh