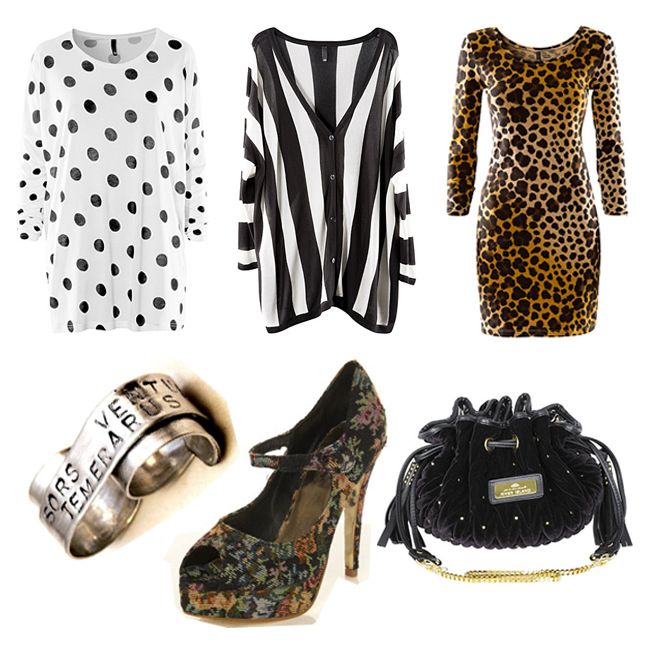 Top row: all from H&M
I keep thinking about prints and graphic shapes at the moment, and I'd really like these three pieces from H&M. I'm slightly worried that the new online shop for the UK will mean that I'm going to spend more money on H&M clothes now than I already do, which is worrying. The fact that I'd have to have things posted home then forwarded on to France by my parents is stopping me from buying stuff at the moment, but if I can't find these items in store here in Lyon I might end up breaking my resolve and ordering them from the website.
Two finger ring by
MerCurios
. I found out about MerCurious via
Pretty Much Penniless
where Eleanor showed the ring she got as a birthday present. The rings are made to order, and you can have whatever wording you want put on them, but I like the range of inspirational latin sayings they have on their etsy shop already.
Amazing tapestry shoes from Miss Selfridge. I've been waiting for these to pop up since I saw them in pictures on various blogs from the Arcadia AW press shows. Again though I'd have to get them posted to England, and I probably wouldn't wear them here in France anyway as everyone is quite casual when they go out here.
Really cute mini duffle bag from River Island. I want a duffle bag for nights out, as they're small but secure and not as annoying to carry around as a clutch. This one reminds me of the
D&G Fall 09 collection
that I loved. All velvet and brocade and quilting, very regal.
What's on your wishlist at the moment?