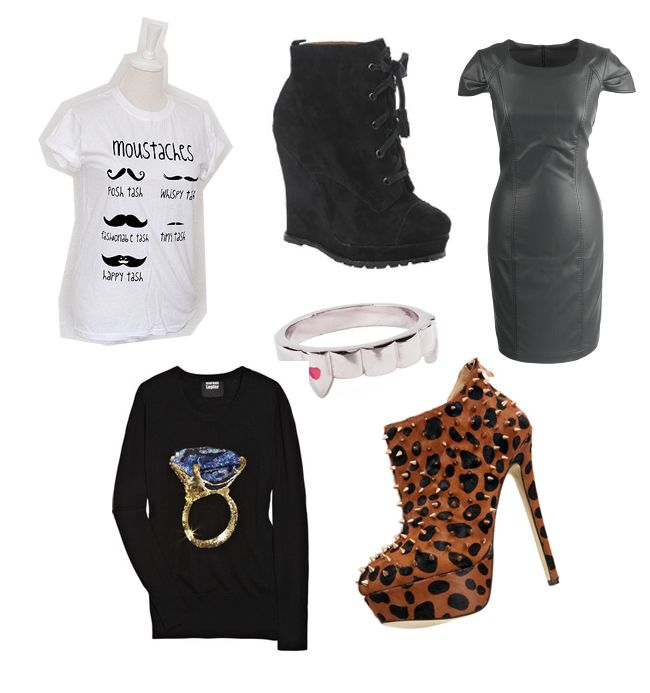 Moustache Tee by Little Deer
- it is
Movember
after all! Why not encourage your boyfriend/brother/dad to join in to raise money and awareness about prostate cancer? And make sure to read
Anchor Rose's lovely Movember post
.
New Look Suede Wedges
. I tried to order these yesterday and it's turned out a disaster. I tried to pay through Paypal, and the money was sent to New Look, but the order itself didn't go through, so now they have my money, but no record of an order to go with it and I can't cancel the Paypal transaction. They haven't replied to my email or tweets about it yet ARGH! I really want to boots and they're almost sold out in my size now :(
Of course before placing my order I went looking for discount codes, and I found a couple that of course I'm going to share with you! Enter
XMAS10
for £10 off when you spend £40, or
NLBTJK
for 15% off leather jackets and boots! Very useful :) Oh, and there's free UK shipping when you spend over £40 too.
F+F Leather-look Dress
. Yet another amazing bargain from Clothing at Tesco, this is only £25! I don't know whether I'll order it though as I'm a different size on top than on the bottom, so shift dresses rarely fit me, and it'd be too hard to alter this kind of fabric I fear. Someone else buy it so I can live vicariously?
Peanut Crunchy Bootie
. Kandee Shoes come up with the sweetest names for their products. I saw these boots on a sneak preview they showed on Twitter ages ago and immediately fell in love. Unfortunately I don't have a spare £199 for them *sob* The sole is even gold metallic, that's attention to detail! There's a studless version too, if you like these but think the studs are too much.
Markus Lupfer Blue Diamond sweater
. At £260 this is again something I can't afford, but I'd absolutely kill for any of Markus Lupfer's embellished jumpers, they're always gorgeous. One day...
Love Bites ring by Me and Zena
. How cute is this. As a bit of a vampire fan (the exception being Twilight, bleurgh!) I can't resist this ring. It's making me want to crack out the Buffy box sets! (I have all 7 seasons in the collector's edition cases, best program ever!)
What's on your wishlist at the moment my lovely readers?