A couple of months ago I
posted my attempt
at Prada Fall 2010 style hair, the beehive with the knitted hairband, and loads of you asked for a how-to. Finally, here it is!
Sorry it's taken so long, but this post was very time consuming to photograph, edit and write up, and it's only recently that I've had the time. The hair itself is relatively quick to do though.
So, here we go!
Step 1:
Start by putting your woolen headband over your head and around your neck. (This one is from Primark.) You want to do this first so when you finally put it on you won't mess up the hairstyle you've just created. If you have really smooth, slippy hair, you might want to put a bit of texture in it, whether by waving or using a product, so it's easier to work with. I wouldn't recommend attempting this with curly hair though, it might be a bit too hard to get a sleek finish if you start with curls.
Step 2:
Using a comb, section off the front of your hair from your parting to just behind your ears on each side, and pin forwards out of the way.
Step 3:
Divide the rest of your hair into two horizontal sections. The part should be a couple of centimeters above your ears. Clip the top section out of the way, and tie the bottom securely into a ponytail/clip it so that it cannot get mixed up with the top section.
Step 4:
Let down the top section, and backcomb it all over using a brush or comb of your choice. Make sure to not backcomb any of the small front section you clipped out of the way.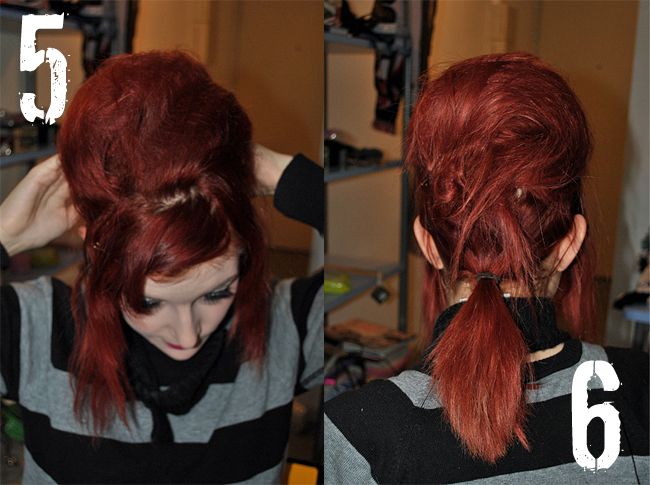 Step 5:
Gently gather up the backcombed hair and shape it into a beehive. Pin it so it keeps its shape. This should only require a couple of pins.
Step 6:
The back should now look a bit like this (but try and tuck under all the ends, I took the photo too soon here before I'd tidied it up a bit). You should still have a distinct top and bottom section, the top a backcombed rough beehive, the bottom a ponytail.
Step 7:
Take the bobble out of the bottom section of hair, and holding it in a ponytail, start to loosely twist it upwards.
Step 8:
This is quite difficult to explain. As you twist your hair upwards, try to get the hair on the sides of the twist to roll inwards, until your hair looks a bit like the picture. This can take a bit of practice. You can do a different kind of twist here if you want. Just make sure the ends are pinned into/under the beehive on top of your head, to hide them and to keep the twist in place. If you've got long hair, you can fold the ends over and pin them underneith the twist you've just created to hide them.
Step 9:
Pin the sides and bottom of the twist/roll as necessary. It's really easy to make it quite neat. Unfortunately as I don't have two mounted mirrors here, I was twisting and pinning for the most part with one hand whilst holding a mirror in the other so I could see the back, which made things tricky, which is why mine is quite messy.
Step 10:
Unpin the front sections of hair and start to comb them backwards and over the beehive, hair spraying as you go to keep it smooth.
Step 11:
Pin the ends under as neatly as you can. Your hair should end up looking like a neater version of
Step 12
. Tidy up any loose or escaping sections of hair at this point, and fix with hairspray when you're happy.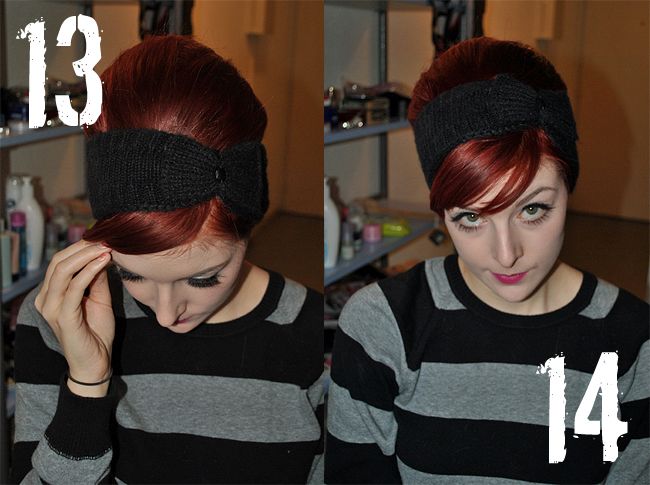 Step 13:
Carefully pull up your hairband so the back is around the bottom of your hairstyle on your neck and the front sits a couple of centimeters back from your forehead. Sort out your fringe if you've got one, and neaten up any damage to the hairstyle.
Step 14:
Et voila! Your finished Prada Fall 2010 inspired hairstyle!