A couple of weeks ago I went to Strasbourg for the weekend with two of the other English girls that are here, to check out the Christmas markets. The train to get there took a ridiculously long time, over 5 hours, but it was definitely worth it!
Strasbourg calls itself "la capitale de Noel", the capital of Christmas, and it certainly deserves the name. The whole city is covered in lights, and there were at least eight different Christmas markets! It put my beloved Birmingham Christmas market to shame!

The huuge Christmas tree in Place Kleber.
Strasbourg has an absolutely beautiful cathedral, but it's so huge, and the light was so rubbish for the whole weekend that I couldn't get a picture.
Click here
to see what I mean though. Even though I'm not at all religious, I find churches and cathedrals fascinating.
You can climb up the cathedral in Strasbourg, which I stupidly thought wouldn't be so bad. I was wrong. It felt like we were climbing forever, and the staircase was so narrow and spiraling and freezing cold. By the time we got to the top I thought I'd lost some of my fingers to frostbite. The view from 66m up, however, was incredible. Definitely worth the climb.
This is why I totally fell in love with Strasbourg. The buildings, with their wooden beams and pointy roofs, are live something out of a fairytale.
Strasbourg is on the border of France and Germany, in the much-disputed-in-the-past region of Alsace, and you can certainly see the Germanic influence. The architecture is totally different from anything you'd see in Lyon.
Most of the road signs were in both French and German, and I really enjoyed seeing some German again. I've been in France for so long now, and with summer before that I've forgotten most of my German, but being in Strasbourg made me less worried and more ridiculously excited for Vienna next semester!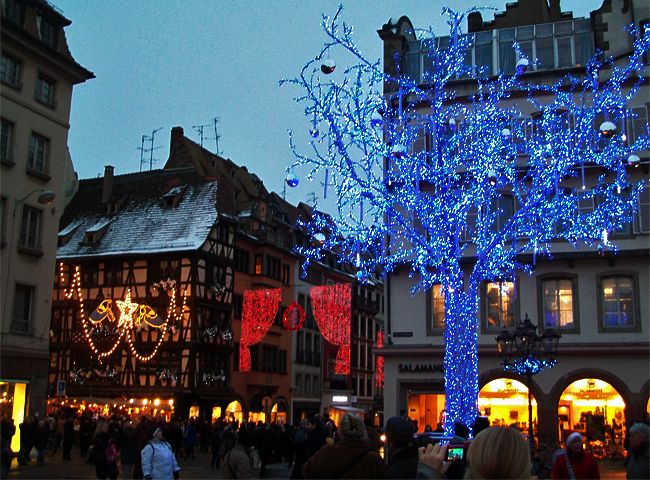 The carol singers sang in both languages too.
Of course Christmas markets are all about the food. We drank ridiculous amounts of "vin chaud" (mulled wine, although the literal translation is just "hot wine". The French are so imaginative!), and ate loads of pastries. I look possibly just a
little
too excited about my "manele de la St Nicholas". Basically a brioche in the shape of Santa. Just not in the shape of Santa at all...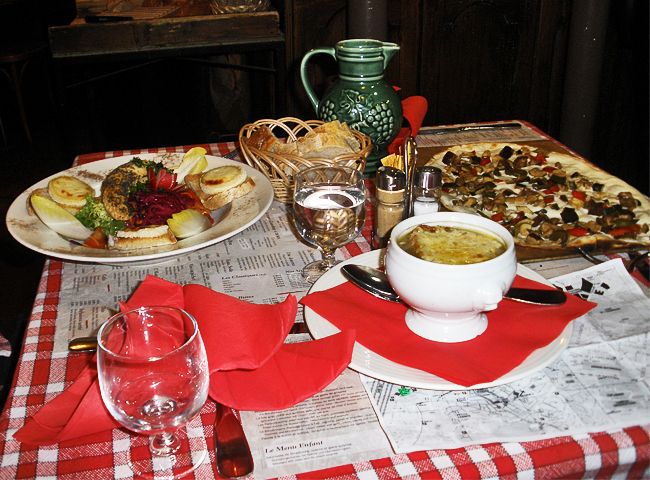 Food in a little Germanic restaurant. There was a lot of meat on offer. Left to right: Salade du chèvre chaud, soupe à l'oignon au gratin (or something like that), and tarte flambée.
When I first came to France I didn't realise that chèvre means
both
goat
and
goat's cheese, so I was confused about all these "salads of hot goat" that I was seeing on menus. It turns out that where
la
chèvre (feminine) means goat,
le
chèvre (masculine) means goat's cheese. So there we go. (No, I don't have a clue why they can't just say "fromage de chèvre" either.)
The tarte flambée is a curious fellow. It's a bit like a pizza, but with a really thin base, and a white cream cheese on top, which doesn't really taste of much. The one in the picture has mixed vegetables on the top, but there are loads of different toppings you can get for it. And yes, that is a big chunk of cheese on toast floating in my soup...
It snowed too whilst we were there. So very Christmassy!
Finalement
, if you go to Strasbourg you'll see fluffy storks, stork magnets, keyrings, aprons and pretty much anything you could think of stork-related is for sale. This is because the stork is the symbol of Alsace, because they migrate there from Africa, and they mark the start of spring. Or something like that. So of course I had to buy something stork-related after being bombarded with them all weekend (my mum always says I'm an ad-man's dream,) so I opted for the most ridiculous thing there, a stork shaped hat. Alas, all of the pictures of me wearing it and looking like a plonker were blurry, so here's a picture of one of my friends wearing it (this picture is deliberately blurry though.)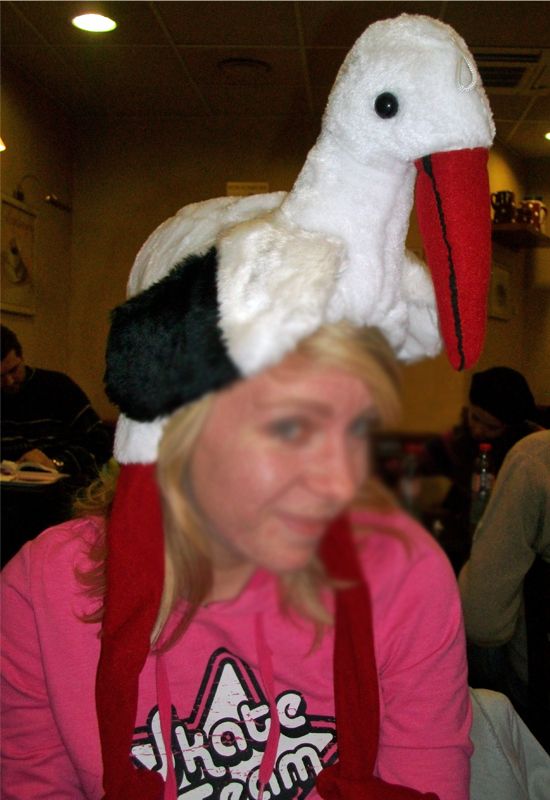 You may laugh, but next time there's a fancy dress party all I need to do is dress in brown, stick some twigs in my hair, pop on the hat and voila! I'm a bird's nest!