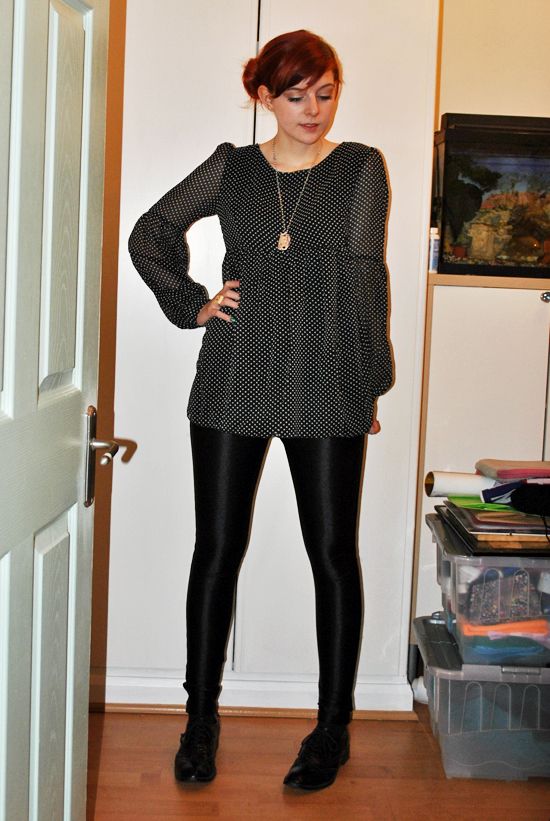 Top - wholesale-dress.net, AA disco pants, Office shoes.


Scrabble ring - Rosie Louisa etsy, Necklace - Dad's, Two finger ring - U.O.

This is what I wore to go shopping in Birmingham with my friend Emily yesterday. I bought a couple of bits and bobs, some tights from Primark and a t-shirt, but mainly managed to stick to my "spend less" and "buy less new" resolutions. The t-shirt was vintage, I'll do a blog post with it in soon.
I also got a new piercing, nothing much, just a cartilage piercing in the top of my left ear, but I like it. I really like piercings, I've got 8 now, all in my ears. I think I'm going to get a
rook piercing
next.
I've had these
AA disco pants
for ages but I rarely wear them. They're really comfy despite being tight, so I'm going to try and get more use out of them. They retail for £70, but I got my pair for 11 Euros at an American Apparel rummage sale in Berlin in 2009 when I was there for the 20th Anniversary of the fall of the Berlin wall celebrations. There were loads of pairs of these in sizes small and large, and I was joking with my friend Mitchell that I'd buy some but unfortunately there were none in my size, what a pity. That just made him search harder and he found this pair that are size medium, so I had to then buy them. But it turned out they looked less ridiculous than I thought, and I actually liked them. So thanks Mitch! Next time I wear them I'll pair them with a cropped or tucked-in top, so you can see them in all their high-waisted glory!
Oh yes, and I'm back home from France for good now. I'll probably do a little round-up post with some photos from Lyon at the weekend.