Another wordy post, but worth a read if you ever have problems with finding bras that fit.
Last week I was sent an email asking if I'd like to review the fitting service at
Bravissimo
, with a free underwear set as a thank you. Of course I jumped at the chance. Not only because of the free underwear (who doesn't like nice freebies now and again?*), but because I've been wanting to go to Bravissimo for absolutely ages now.
*Despite the fact that I got given a free gift in return for my review, this review will be completely honest and impartial. I'm always 100% honest with you guys, I'd never want to mislead you.
I have the problem of having a small back size, but still a fair bit of boob (although I know I don't look like I do!), so finding bras that fit is usually a nightmare. I can't buy them from most high street stores, only from Marks and Spencers and Debenhams. M&S bras are pretty pricey for what they are, and often the nicest styles start at a 32 back, so I can't get those. I've taken to going in whilst the sales are on and scooping up all the reduced 30DDs, which has resulted in me having a drawer full of multiples of the same bra, as there isn't much choice left once things are reduced.
Anyhow, as Bravissimo starts from a D cup and a 28 back, I'd been wanting to go and investigate, but was put off by the fact that their bras aren't cheap. (However I've now found that a lot of them are the same prices as M&S etc, and much better quality, so worth the money.)
I was greeted for my fitting (which I had booked, probably the best way as they seemed quite busy) by very friendly staff members, which was a plus right away. Bra shopping (along with jeans shopping), can be a bit of a stressful experience, so it was nice to not be greeted by a sullen and disinterested changing room attendant. The fitting rooms were spacious, with a big well-lit mirror, stool and tons of hooks, a Bravissimo catalogue to look through so I could point out any styles I liked, and a robe, which was very thoughtful, I thought.
I was asked to take off my top so the fitter could take a look at my existing bra. This is when I was most impressed. Straight away she looked at me and said "you have a concave breastbone", which is true. The middle bit of my chest, where the middle of your bra is supposed to fit, is a lot more caved in than most people's, making it very difficult to find bras that fit at all well. I've been fitted in Debenhams and Marks and Spencer's before, and they haven't said anything about my breastbone, instead just ignoring the fact that the bras they gave me to try on did not fit at all. My Bravissimo fitter then said that not all bras would fit well because of this, but that she'd show me how to see which ones fit my deformed ribcage the best. (She didn't say deformed ribcage, that's me saying that. She wasn't rude.)
She said that the bra I was wearing fit quite well but pointed out where it could fit better, and showed me how the back band wasn't very supportive, and could do with being a bit stronger and more elastic. Then she went off and brought back two bras for me to try, to determine my "basic Bravissimo size", or something like that. I was surprised when she said the one that fit best was a 30E! After that I tried on literally dozens of different colours and styles, (which is where the large number of hooks in the changing room came in handy!) My fitter was happy to keep changing styles and sizes where needed. I tried on sizes between a 28F and a 30DD, so keep in mind when bra shopping that the size you need can fluctuate slightly between different styles and brands.
I'd told my fitter that I didn't ever buy balcony style bras, as they just don't suit me, but she still brought me a load to try on, and showed me how to adjust them to fit and look better, and lots of them looked really nice on. I also tried a half dozen different sports bras, and ended up
buying this one
in the end, as it was such a novelty to find one that fit perfectly. (Hopefully this will encourage me to do a bit more exercise now!)
In the end I was left with about six different bra styles that I really likes to choose from, which amazed me as I usually only get at the best two pretty ugly bras that fit ok when I go to M&S. You can see straight away that the Bravissimo bras are much better quality too. They have thicker straps and firmer backs, so you feel much more supported. When I put my top back on with one of the Bravissimo bras on, the difference was great. My torso looked longer (making me look less dumpy), and it looked like I was standing straighter.
I eventually chose the
Rhea set
to take away, a balcony style(!) in a pretty soft pink colour with lace, which fits my concave-y chest surprisingly well! The only negative I did find is that the choice for this set was between boy shorts or a thong, and although I'm a shorts fan, they aren't as pretty as the thong. Also, most of the sets only have a choice of two knickers styles from shorts, briefs and thongs, and as most people seem to have one preferred style (I know I do, comfy shorts all the way), this is slightly limiting.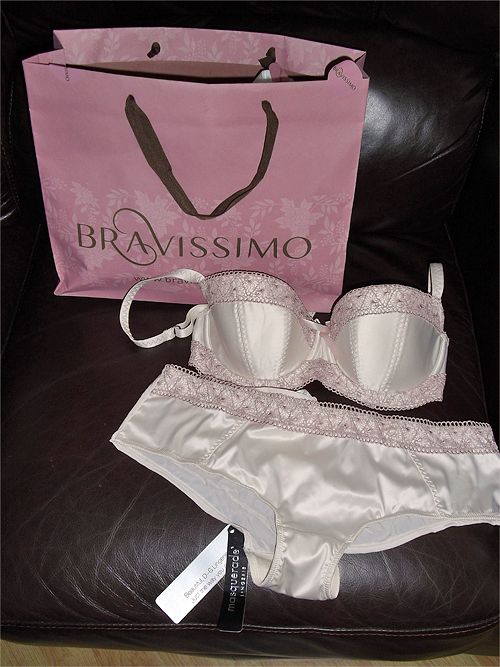 (My mum was worried I was going to take a picture of myself in my underwear, outfit post-style, to show you the set I got! It somehow didn't occur to her that you can take pictures of clothing when you're not wearing it.)
I'd really recommend going to Bravissimo for a fitting. The staff are really friendly and they have a large range. Even if you don't think you're a D cup, unless you are absolutely certain, I'd suggest going to get fitted. Most women are wearing completely the wrong bra size (if you're a size 10 and you're wearing anything bigger than a 32 back then you're most probably way off.) The bras aren't cheap at Bravissimo, but they aren't hugely expensive, with most around the £23-£28 mark, which is more than worth it for a good quality bra that fits you perfectly. Click
here
to find your nearest shop and the number to call to book a fitting.