This is a wordy post, so if you're not interested in hair extensions then feel free to skip past it!
I've had a lot of questions about my hair extensions recently, so I thought I'd do a post about them. I know this isn't a hair/beauty blog, put my
previous post on dyed red hair
seemed to go down well, so hopefully you'll all find this one helpful too.
I bought my hair extensions because, pretty obviously, I want longer hair. I know some of you will be thinking "just grow it then", but that isn't really an option for me for three reasons. 1) My hair grows really slowly. I've tried regular trimming, and just leaving it, and it doesn't seem to grow anywhere near as quickly as other people's. 2) I don't think my hair likes growing long. This might sound a bit weird, but everyone's hair has a natural length it will reach and then fall out. Some people's hair has a shorter "longest length" than others. My hair seems to reach just under collarbone length and then refuses to get any longer. 3) My hair is in bad condition at the ends, because of bleaching it last year, so I keep having to have split ends trimmed off. SO I can't really grow my hair too easily until I've grown out all of the bleached damaged hair.
So, extensions it is. I got clip-ins because there's no way I'm spending hundreds of pounds for glued or sewed-in extensions which wreck your natural hair and don't last that long. Also clip-ins are much more versatile - it's easier to put your hair up as you can move the clips around so they can't be seen, and if I'm doing exercise etc I don't want loads of hair making me too hot and getting in the way. They are really quick and easy to put in.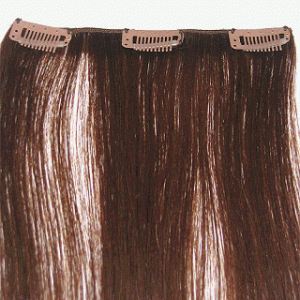 Hair extension clips. Image from Google.
I bought them from
Foxy Locks Extensions.
Mine are the 160 gram ones. I did a lot of research, reading loads of reviews and watching dozens of youtube videos about various different brands of hair extensions, and Foxy Locks came out on top. The owner of the company, Imogen, has
her own YouTube channel
with loads of really good tutorials on how to clip in your extensions, how to care for them and how to style them in loads of different ways. Also, if you
tweet her
a picture of your hair she'll advise the best colour of extensions to get to match. This 'interactivity' with the brand is probably a big part of the reason why Foxy Locks are so popular.
I'm not going to do an in-depth review because there are
loads of those
out there already, and I just want to address the questions I get asked on the blog about them. The one thing I will say is that most people seem to go on about how high quality the clips are, but one of mine has broken after only a couple of months and not much use, and a couple of the others are coming un-sewn. This is relatively easy to sort out, and I'm not too bothered about it, I just thought I'd let you know.
Anyway, a couple of FAQs about my extensions:
Are they synthetic or real?
The extensions are real human hair, which I know weirds a lot of people out. It doesn't bother me though, as I know the hair has been cleaned etc. Because it's real hair, you can treat it exactly the same as your own hair, using heat styling tools etc. I've had cheaper synthetic extensions in the past, and you have to be really careful when styling them, as if you get them too hot they start to frazzle and you get a horrible burning plastic smell coming from your head!
How did I get such a good colour match?
I dyed the extensions to match my hair, with the same dye as I use normally. Another up-side of them being human hair is that you can dye them. As I have an unnatural hair colour, I knew I wasn't going to get an exact match straight off. So I ordered a similar colour to my natural hair colour (lightish mouseyish brown - I think, I haven't seen more than a few millimetres of it for years now), and dyed the extensions with the same dye I use on my own hair. The colour I ordered - number 14 Toffee Brown - was a bit lighter than my hair in the end, more blonde than brown really, so the dyed extensions are a bit lighter than my roots, but as my hair is lighter on the ends because of the bleach, my hair has a kind of ombre-d red effect anyway, so the extensions blend really well with the ends of my hair. If you want a perfect colour match through dyeing your extensions, I'd suggest taking them to a hairdresser if you can, because they'll be able to get the best results.
As I said, you can style your extensions in loads of different ways, and I'm enjoying the versatility of long hair. Here are some outfit posts where I've styled the extensions in different ways:
Side plait
Straight
Curly
Wavy
Up-do
Does anyone else wear extensions? What do you think of them? I think they're gradually moving away from their negative image (
Snog Marry Avoid
anyone?) and getting more "normal" shall we say. After all, loads of people (and loads of bloggers) wear fake eyelashes every day now without it being viewed as cheap-looking or OTT, so why not extensions?