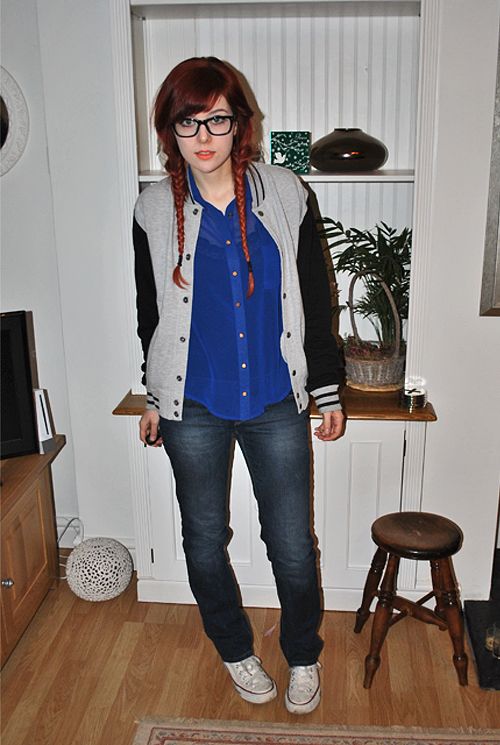 New Look shirt, Asos jacket, Primark vest (underneith), Next jeans
I love the colour of this shirt. New Look have them in in seemingly every colour under the sun at the moment. I may get the white one too and I really like the fit. I've got a few longer shirts already, so the shorter length of this is a nice change. I think colour blocking will be the direction I take for spring, so this lovely blue is perfect. I need a change from all black all the time. Sating that, I bought a black cardigan today... ahem. I've had the baseball jacket since last summer but I don't think I've ever shown it on the blog. It's a mens one from Asos, cause at the time there weren't any affordable women's versions around. Now of course they're everywhere, but never mind, I quite like the oversized fit of it. Also it's totally plain, unlike most, so I'm going to decorate it with my own patches to personalise it. Maybe a "K" on the front to stand for my uni, to make it like a proper collegiate letterman jacket.
I don't wear jeans on the blog very often. I think it's kind of become a blogging taboo to wear jeans, which is silly. Up until I got these I didn't have any jeans that fit properly though. This pair is from Next and they fit so well (they actually fit tighter than they look in the picture. Dunno why they look weird. I must have stretched them out funny.) Back in December I took part in the Next blogger challenge, and I came 16th out of the 60 or so bloggers who took part, and so I received a very generous amount of vouchers to spend in Next. So a huge thank you to everyone who helped me with the challenge! I went on a spree with my Mum in Tamworth last weekend and got quite a few things, and still have loads of vouchers left over, so there'll be a few Next things popping up on the blog in the future.
You can't see very well, but I've got an orange lipstick on. It's Barry M (can't find the tube to see what number) and is a lovely bright coral-y orange. Apparently really bright make-up is going to be big for spring, and I look a bit silly with eyeshadow on, so I'm all for bright lipsticks.
Ages ago I won a competition on
Milkteef
and got £25 to spend at
Spoiled Brat
as a prize. After a few customer service issues (they were quite rude in their emails to me, and accused me of not reading their policy, which when I did find on the website, they hadn't fulfilled anyway!) I finally got my items this week, some lovely Pamela Mann seam back tights with the word "love" at the ankle, and a
Neivz
ring. I've wanted something by Neivz for ages, they do great graphic jewellery, so I love my
Glitter Fang Ring
. It's really unusual as it's a combination of glitter acrylic and wood, and gold on one side, silver on the other, so it will go with all my other jewellery. So thank you to Emma from
Milkteef
for running the competition! (Go and check out her blog, she has great style!)