One of my geeky things is how much I love super heroes. I'll admit I'm not a "hardcore" fan, I don't read comic books ,mainly because there are so many different stories and spin-offs I wouldn't know where to begin, but I LOVE a good super hero film. The X-Men have got to be my favourite characters, especially Wolverine. I once watched the X-Men trilogy back to back with a friend, and I'm really excited for
X-Men: First Class
which is out later this year.
Why am I telling you all this? Because a couple of weeks ago I found the most perfect geeky super hero t-shirt. I've been wanting one for ages, and stalking a few different t-shirts from
Truffle Shuffle
, which sells t-shirts of every cartoon/comic book/kids tv programme ever made I'm sure. I refrained from buying one as they're mostly about £25, which isn't a fortune, but is too much to spend on a t-shirt if you've made a New Year's resolution to spend less on clothes, and buy less new. You can imagine how excited I was then to find a t-shirt featuring all of the best
Marvel
characters for only £12.50 in a retro/vintage shop in Birmingham. At half the price of a new t-shirt, and second-hand, it fits my resolution criteria perfectly!
That's Spiderman, the Hulk, Wolverine, the Human Torch, Captain America and Iron Man on there. I rolled up and sewed the sleeves like that because I think t-shirt sleeves look better rolled on me.
Here's the rest of my outfit: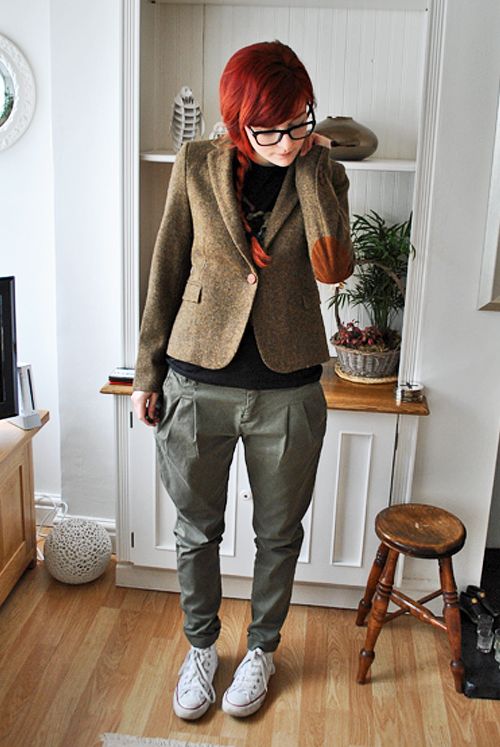 Look! Elbow patches!

The jacket is also new. I've wanted a tweed riding-style jacket for a few years now, but never found the perfect one. Actually, scratch that, I did find the perfect one in Jack Wills last winter when I was working there. Their jackets are gorgeous but retail for around £230. For some bizarre reason I decided not to get one with my staff discount, which would have brought it down to an affordable price, and I'd been kicking myself for my stupid decision ever since. Then when I was in France still in January I saw this one in Zara, but it was pretty expensive. I checked the UK website to see if I could order it from there (because of the exchange rate it's more expensive to buy things in Euros at the moment), but they didn't have it. I decided to go back and have another look, and the day I did the French January sales had just started (They start a couple of weeks into January, unlike here in the UK), and found it for 20 Euros less than a couple of days before. I took that as a sign and snapped it up, and it's my new favourite item of clothing now. It even has suede elbow patches!
The trousers are also from Zara, but I'm unimpressed with these as I've only worn and washed them about 5 times and the stitching around the bum is coming undone already! Grr.