Last week I attended a "blogger evening" to have a look at River Island's "High Summer" collection which will be in shops in a couple of months I guess (but who knows, with the warped timings of high street clothes shops where you can only buy a bikini in January and a fur coat in July, it could be out at any time.) The collection is Marrakech themed with lots of bright colours and textured fabrics. Very nice.
I love the leopard and the orange wedges, and the orange shorts.
The evening itself was slightly odd compared to normal blogger events/previews though. Yes there was the normal free booze and nibbles, but there weren't actually that many clothes!? There were only about 6 items of clothing on display, it was mainly accessories. The River Island press studio is admittedly tiny, but they hadn't made the most of the space really. I could have taken pictures of everything and been in and out in about 5 minutes.
I guess the reason there wasn't much to see is that the rest of the clothing was being used for the collection's press images, which were being shot at the same time in the back of the room. When I got there and the River Island PRs explained what was going on, it was quite exciting. A live photoshoot is not something I've ever seen or heard about at a blogger or press event.
Photo editing man doing his thing.
They were being really high-tech too, with monitors set up in the room where you could see the shots that were being taken and edited, and then these were then streamed to various iPads dotted around the room. Very snazzy.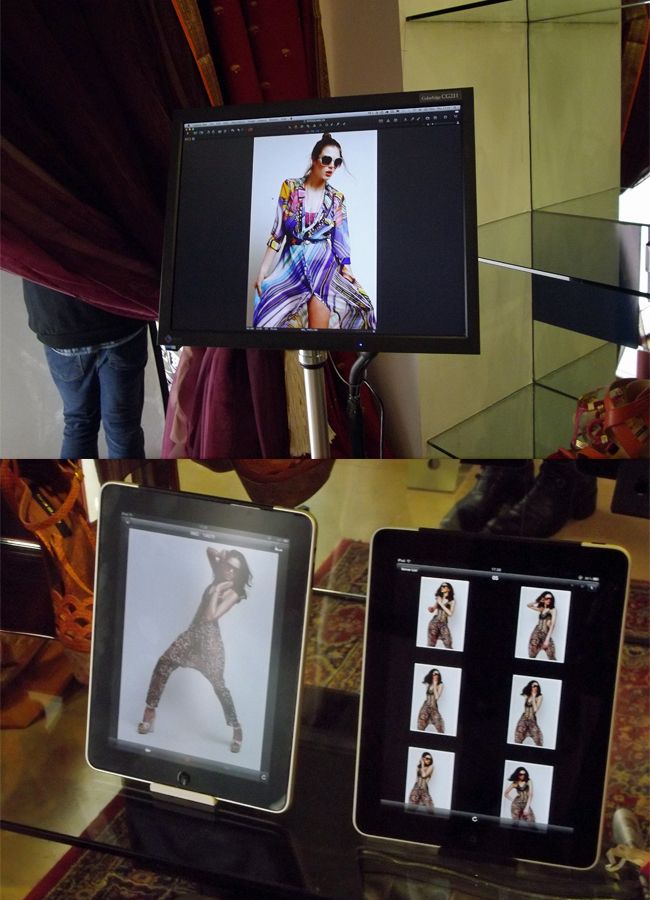 The PRs were also telling us that if we had iPhones we could download an app to get the pictures on those too. problem is, no-one seemed to have an iPhone...
The other problem, and my main gripe, is that although we could see the photoshoot going on in the back of the room, mostly all we could see was this:
Ok, fair enough if the light reflector thingymabob had to be held there, BUT the River Island PRs were being a bit funny about us trying to take pictures of the photoshoot. We weren't allowed to go beyond a certain line, which made it quite difficult to see what was going on, never mind take pictures. One PR was telling us that we couldn't even try and take pictures, and that we were only allowed to take pictures of the monitors and iPads.
This is what annoys me. As a general rule, bloggers like to take pictures. Lots of them. Of anything and everything at the events we go to. Don't make a big deal about how cool this live photoshoot is and how clever you are for doing it at an event if you don't want us to take pictures, or even watch it. The photoshoot at a blogger event was a really interesting and original idea, but they ruined it by being funny about photos and making it difficult for us to watch it. If they really needed to have it going on at the same time, then they should have shut the curtains, and not just given us glimpses and bigged it up.
It's not even as if the looks were "top secret" anyway, as we were told the images would all be available on the pr shots website the next day (they weren't, it took 6 days.) Anyway, here are some of the advertising images I (kind of) saw being shot: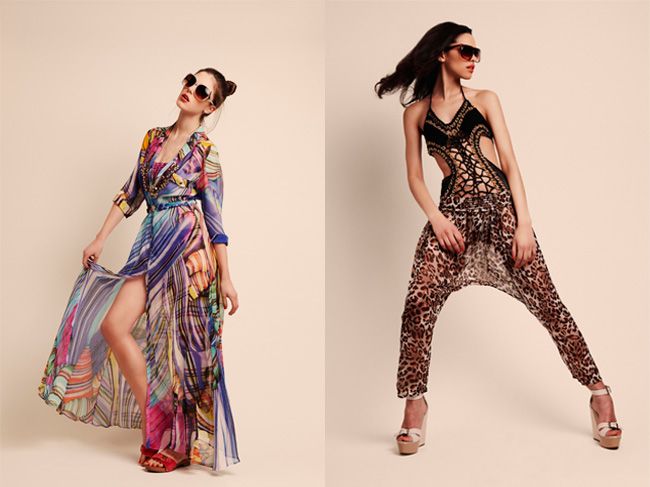 On a bit of a tangent, this is the most bizarre item of clothing I've seen in a while. It's a "kaftini"...
When I saw the look on the model at the event I just thought it was a top tucked into bikini bottoms (which I thought was slightly odd styling), but no, it's an all-in one. And possibly the least practical thing. It's not a proper cover up, as your bum is completely out, you can't really wear it over anything else, and you sure as hell can't swim in it. And it's £49.99 apparently. I'm going to stick my neck out here and predict that this will be an end-of-summer clearance item. Or I could be wrong, would you wear it?
SO. In conclusion, the clothes were very nice, and I'd happily wear the majority of the pieces I saw, but if any PR types are reading, don't do what River Island did if you don't want to bemuse and slightly irritate the bloggers you invite to your preview events. I'm never getting invited back to a River Island event after this post I'm sure, but I like to be as honest as possible. (Superdrug seem to have taken me off their blog partnership list after I gave not-so-great reviews to some Bloom cosmetics a few months ago :p)
I don't want to end on a negative though, and one nice thing that came out of the evening was that I met the lovely
Bumpkin Betty
(I wasn't sure whether or not to use your real name because I don't know how "internet anonymous" you are!), and we had a nice long chat about various blog-related stuffs. Go read her blog.