Every new season, I do a post like this one, having a look at my favourite designer collections and pulling themes and influences from them for my own wardrobe for the upcoming months. I'm not a complete trend whore, I can't afford a whole new wardrobe every 4 months or so, but I don't see anything wrong with wanting to make a nod to a few trends and freshen up your look a bit. So, on with the trend inspiration/analysis whatnot.
Jil Sander
I'm not really being original in picking out the Jil Sander SS11 collection as inspiration, it's all over every fashion magazine out there, but I like it, so there.
This past winter I've been living mainly in black, with a bit of white and grey thrown in there, so it would be lovely to embrace the bright hues and colour blocking as seen at Jil Sander for spring and summer. Perhaps I won't be emulating the tricolore look of the 4th image, but I like the idea of a couple of colours together, or a really bright skirt paired with a crisp white t-shirt.
And I shall be copying the minimal (looking) make-up, bright pink lip look. Barry M 146 all the way.
Christopher Kane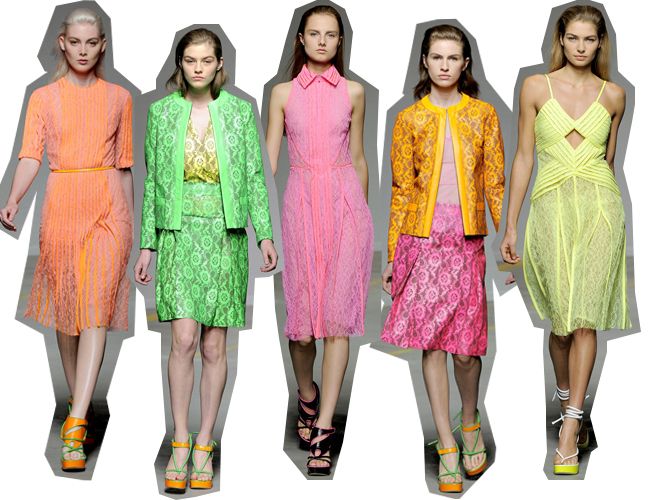 Like your granny got hold of a load of acid. Bright colours again, but made a bit more interesting with texture and detailing. I'm on the hunt for neon lace.
Christopher Kane never fails to impress me. When I'm rich (ha!) I shall dress head to toe in his creations... *daydreams*
Alexander Wang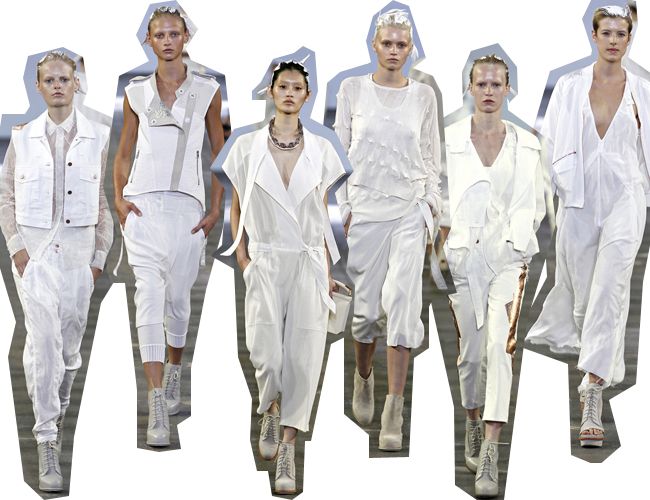 I've said before on this blog that I never used to really get the whole Wang mania (teehee! Oh come on, his name is kind of funny no?), but as each new season rolls around I like him more and more. Look at all the crisp beautiful white! (Vanish Oxi-Action at the ready ladies!) Completely impractical of course, especially for someone as messy as I am, but white would be a complete 180 from my winter goth look and a welcome breath of fresh air.
Also, I am totally in love with the shoes:
I think it's the shape of the toes, just perfect.
So, my keywords here are
bright
,
white
and
colourful!
It's nearly time for me to move out to Vienna for a few months (eeeeee!), so I need to get cracking on capsule wardrobe pt. 2. This weekend I'll be sorting through my wardrobe, digging out long forgotten summer-y clothes from last year and hoping I've got at least some things which fit in with my summer wardrobe visions!
What do you want to be wearing this spring/summer?