Firstly, thank you all for your lovely comments on my
last outfit post.
It's nice to know that not everyone thinks my hair looks shockingly bad! In fact, thank you for your lovely comments full stop. I have the nicest, most interesting readers. You lot rock!
Today was the first outing of my ridiculous bright pink and orange leopard print harems. They're kind of ridiculous looking, so I thought if I was going to wear them, I should take it all the way, so I teamed them with a mustard vest to really go for it with the bright colours.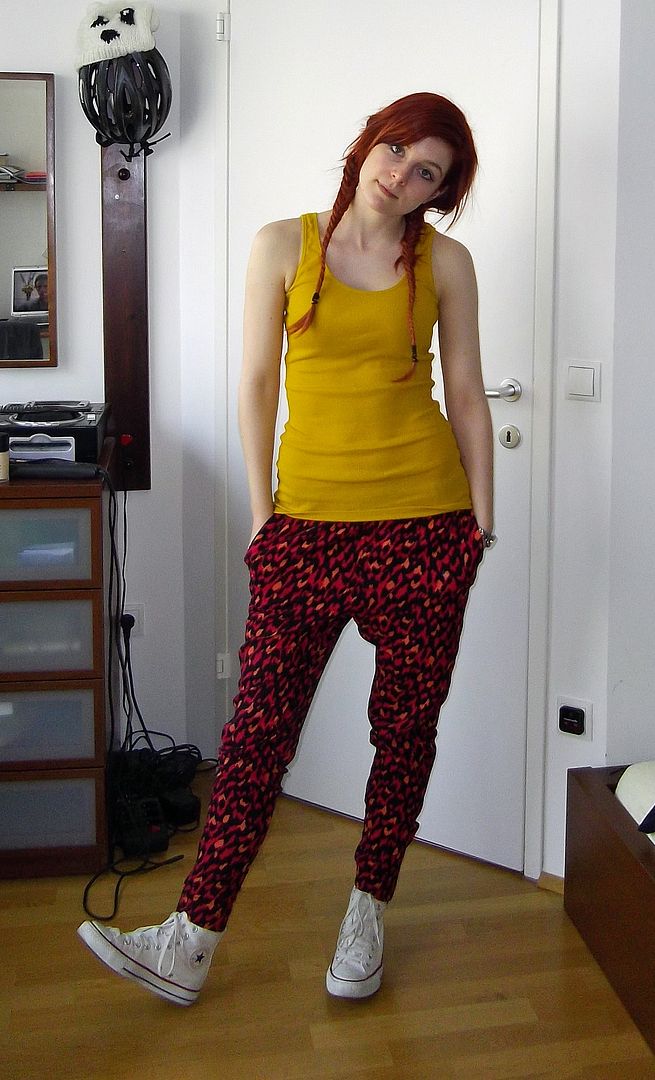 Of course we all know about my addiction to black though, so I had to get some in there somewhere. I promise I'll try and phase it out by the time spring is properly here.

Primark cardigan, Asos belt, Dorothy perkins vest top, H&M trousers.
They might not be to everyone's taste, but I bloody love these trousers. When I bought them the guy at the till gave me a look and said "you'd have to be quite daring to pull these off" in a really snarky way, which seemed to suggest either a) that the trousers were hideous, b) that I wasn't cool enough to pull them off or c) both of those things. I keep seeing full rails of these in H&M (there are about 50 H&Ms in Vienna I swear), and I haven't seen anyone else in them, in real life or on any blogs, so I'm guessing they aren't too popular. Maybe I look like a fool and everyone is secretly laughing at me? I did get a few double-takes in Vienna today, but I felt like the trousers were generally accepted. If I'd worn these in Lyon I'd probably have been chased out of the city by flaming torch and pitchforkwielding locals.
So what do you lot think?
Finally, a shout-out to Anna from my German grammar class if she's reading. Anna stopped me after class this morning to compliment me on my outfit, and I gave her my blog address. She really made my day. And she didn't start talking to me in English after I told her where I'm from, which
never
happens. I was chuffed that someone was happy to let me practice my German for once!