No amount of editing could make my face look good in the following picture, so once more it's a stick-a-picture-of-a-cute-baby-animal-over-my-face jobby. Today's cute baby animal is a polar bear cub, in a tribute to
Knut
, Berlin zoo's famous hand-reared polar bear, who collapsed and died on Saturday at the age of four. Very sad.

Primark cardigan, Dorothy Perkins vest, Asos belt, H&M trousers
These trousers were only €9.99 (I finally looked up the € keyboard shortcut), so I couldn't resist. They're the same colour as my
Topshop chinos
, but more fun and more casual. I also have a pair the same shape in pink and orange leopard print, which I guess a lot of you may have seen in-store in H&M. They'll be making their blog debut soon.
I thought I'd also share these kinda crappy phone pictures I took in Zara the other day. I've never really been a huge fan of Zara, but I went in there recently and wanted to buy everything! There are so many amazing brightly coloured pieces perfect for colour blocking.
Trying out what colour blocking looks like on me. The top was a bit of an odd fit unfortunately, but I do have quite a lot of orange already, so it's probably best I didn't buy it. The trousers were lovely, half way between smart and casual, they were really comfy, and I loved the colour (which is less minty in real life than they look in the picture.) They were €40 though, which I think is maybe a bit too much to pay for something I'm only going to wear for one season. Also, they were a perfect example of how Zara's sizing is all over the place, has anyone else found this? These are a size 8, which I definitely am not, I'm a 10-12 in trousers. I tried on a pair of jeans in there in a size 10 afterwards and could barely do them up. Crazy sizing.
This jacket is incredible, but it's so expensive. I can't remember how much it was in euros, but it's £119 in the UK I think. Shame, cause I LOVE it. But this was a weird fit too, I tried on a small and it was a bit too big. It's a good job not all shops are like this or people who really are extra-small would have no clothes to wear.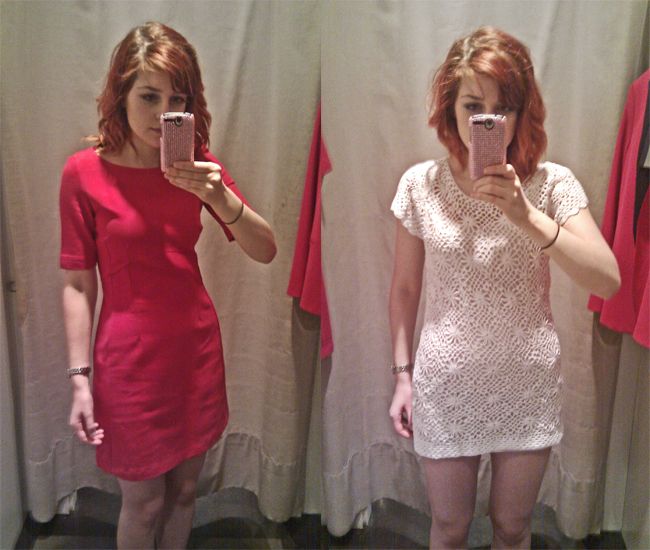 I love this pink dress. The material was really odd, it looked and felt like jersey on the outside, but it was really thick and elastic-y, like neoprene wetsuit material! I felt really "secure" in it once I'd put it on. It's not really casual enough for me for every day wear, but I thought it might be good for a wedding I'm going to in November (my boyfriend's sister's to be exact.) Is bright pink an acceptable colour to wear to a wedding though? I know you shouldn't wear white, and probably not black either, but is bright pink a bit too much too? I don't usually have a problem choosing what to wear, but for weddings I never have a clue! It's probably a bit too soon to be buying something for November too, but I really love the dress! Yet more odd sizing, as this looks a little too big on my hips, and is a small. Zara seem to be really hot on "vanity sizing", which is something they've actually spoken out against in the past?
I was so excited when I saw this crochet dress, as I've been wanting a (lined) white crochet dress for summer. When I tried it on though it was ridiculously short. I know I'm not a midget, but I'm not exactly tall either (I'm 5'7"). So, back to the drawing board with the dress hunt. If anyone sees one they think I might like, please let me know!
I'll leave you with this adorable video and song about Knut when he was still a cub.