This week is my first full week at uni in Vienna. I only had one lecture last week. I had two history courses today; history of Austria from 1918 to the present day, and contemporary history (20th and 21st centuries). It looks like they're both going to be really interesting.
It's still winter coat weather in Vienna, so my outfits have been a bit naff for the past week as I've mainly brought spring clothes with me, so I've been mainly wearing the same boring jeans, t-shirt, jumper combination over and over again, to keep warm. I thought that I'd attempt something a little more interesting today, not that it really matters though as I have my coat on except in lectures, when I'm sitting down and noone can see me. Oh well.

New Look shirt, Topshop t-shirt and trousers, Next boots
I don't have my student card yet which means I can't get into the library (at least I don't think I can), so to kill the time between classes I decided to go for a wander down Mariahilfer Strasse, which is the main high-street type shopping street. I popped into H&M to try to find some gloves, because the ones I have at the moment (also from H&M) have holes in the ends of both index fingers now. They only cost me 2 euros to begin with, but I only bought them in November or December, so I'm a bit annoyed. Anyway, there were practically no winter accessories in H&M, it was all really summery stuff, but I found a pair of mittens for 2 euros in the bargain bin. They don't keep your hands warm at all though I discovered as soon as I left the shop, so I'm having to wear my old holey gloves with the mittens on top, which means I have really well-padded hands now!
I also saw this cute leather bag charm, and although it was quite expensive for what it is (4.99), I've been wanting to get a bag charm for my uni bag (a Longchamp shopper) for a while now, and this one looks really good with the leather handles and trim of the bag. Tassels are fun.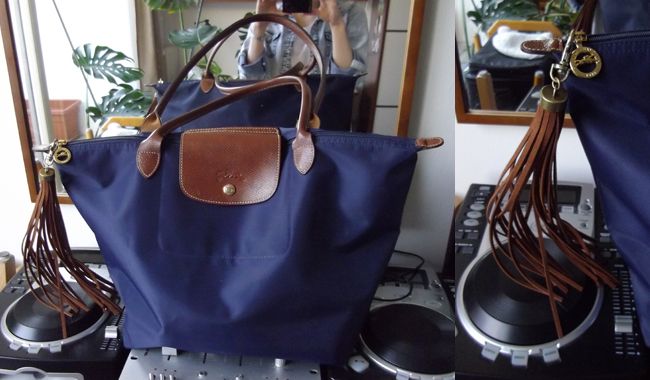 Yes those are (cd) DJ decks in my room. No, I have no idea how to use them.