Last week
I showed you
my amazing new made-to-measure
Siobhan McKenzie
dress, and today I've got an interview with the (ridiculously gorgeous, as you will see..) designer herself! Read on to find out more about Siobhan, her line and her inspirations.
My bodycon multiway mini dress
First off, what's the story behind your line? Why did you decide to start it up?
My line kind of evolved out of my love of customisation. I used to make customised skirts and tops and sell them on ebay, and then I gradually started making my own pink tank tops (which is still a best seller!) and it grew from there. I never sat down and decided 'I want my own line'.
What kind of girl wears Siobhan McKenzie?
I wear 'Siobhan McKenzie' constantly! Everything from the current season is hanging in my wardrobe. My clothes are colourful and fun, and for anyone that is body-confident and outgoing. I want to provide another option for anyone that wants to stand out!

My guess is that it's you who models on the site then?
I model my own clothes as I am not a typical size-zero model (hard to tell I know :-p) as I think it better represents how the clothes will look on real people. I don't 'tuck' anything in the photos, so the fit is exactly as shown which I think is why I've not had a return in the last year! What you see is what you get!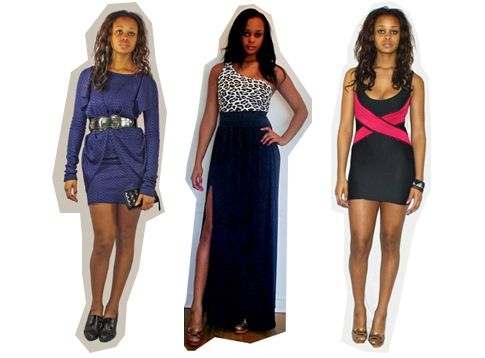 Siobhan's favourites and the best-selling 'Ziggy' dress

Which is your favourite piece? And which pieces are your best sellers?
My favourite at the moment is the
navy maxi skirt with the thigh-high slit
. I love to show off my legs in the summer but I also like to be comfortable and classy and I think it's a nice balance. The item that I wear the most has got to be
Navy Blue Wool Jumper Dress
which carried me through the winter without having to layer as its so warm and lightweight. It also has the extra benefit of hiding any Christmas sins as the panels fold over the stomach.
I have a 'best seller' section which hasnt changed much since last season, and the top seller is the
'Ziggy' Black & Pink Bodycon Mini Dress
I think it's because it's a twist on an LBD and the cross bust detail makes your boobs look great!
Where do you get your design inspiration?
I have a 'shop-style' iphone-app addiction and I buy ELLE and Company magazine, but I get my inspiration from the fabrics themselves. I design back-to front, choosing my fabrics first and then getting the inspiration for the cut and style afterwards. I'd love to say I'm not influenced by anyone, but that wouldn't be true! I'm inspired by the fit of Hervé Léger, the block colours of Jonathan Saunders and Halston's draping.
How do you find the time to run a business alongside your degree(!)?
I sometimes don't and get completely burnt out. Luckily I enjoy my degree so it doesn't feel like a chore. I try to do my work as early as possible to avoid last minute all-nighters! My degree is in 'computing and interaction design' which is a mix between geeky programming, web design, and a conventional design degree so there's a lot there to keep me interested! I don't find it to be a high-stress part of my life, and I'm very relaxed and easygoing in general. I find time to enjoy cooking as well as baking and indulge in a bit of trash tv in my day to day life .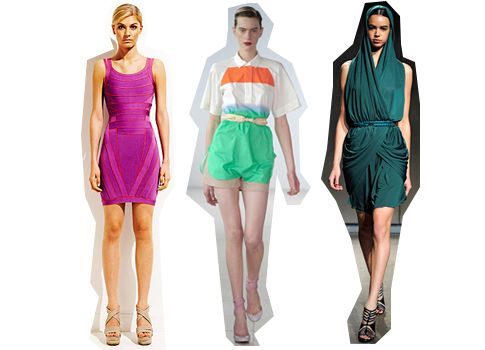 Designer inpiration: Hervé Léger, Jonathon Saunders and Halston

So your degree is pretty non-fashion related, but do you see yourself ending up in a job in fashion?
I hope to get a graduate job in my field (interaction design) whilst continuing my fashion line in my free time. I don't really have an interest in applying for design jobs to work for other designers as I'm completely hooked on the creative control of doing my own thing! However, I'd love to partner with other designers to create mini-collections and it's something that I am just getting into now so watch this space!

How would you like to see your line develop?
I really want to keep it small and personal - my customers know me by name and there's a certain trust there. I would never outsource cheap labour to other countries, and if anything I see my line being a small collection of talented seamstresses tucked away in a tiny studio somewhere in London, creating top quality tailored clothing for reasonable prices.
These are some of my favourites from Siobhan's line -
Batwing mini dress
,
Red stretch ruffle mini dress
,
Chiffon asymmetric dress
,
Sports luxe zipped dress
. I think I'll definitely be ordering at least one of these later in the summer for nights out once I get back to the UK.
I'd really recommend Siobhan's clothing. Everything is at high-street prices, yet can be tailored to your exact measurements for a perfect fit at no extra cost.
Siobhan has created a discount code for my readers, so enter
FISHTANK10
for £10(!) off each order, and do let me know if you buy anything!