Today I went for a walk through the vineyards that are on the edge of the town I'm living in. I'm not technically living in Vienna, but in a place called Perchtoldsdorf which is just outside the city. It's a really beautfiful little town with some lovely old buildings and great places to eat!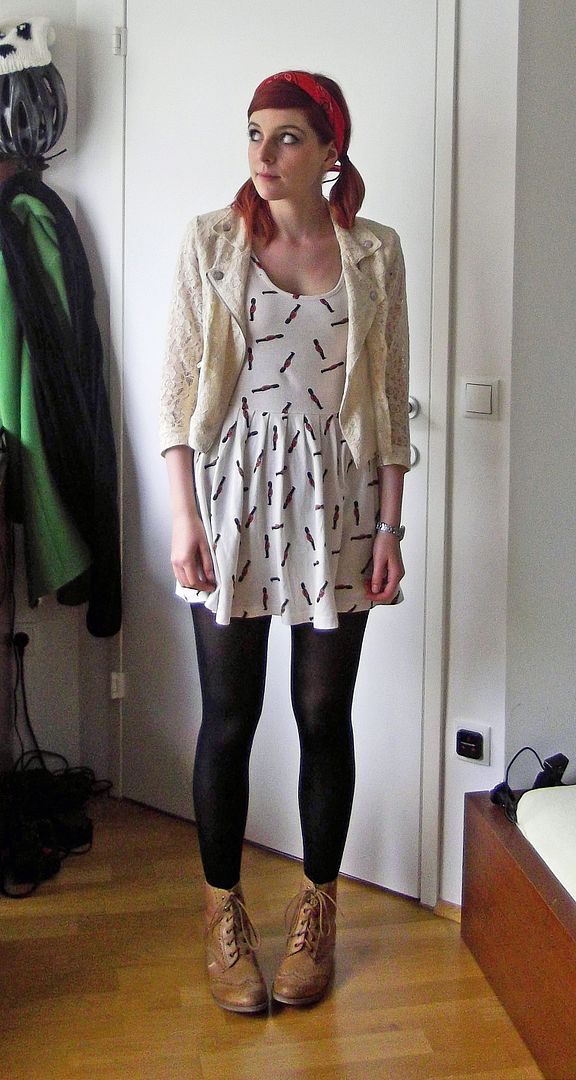 I wore my Primark dress with the cute Buckingham Palace guard print, and my beloved H&M lace biker jacket. Although it was sunny it wasn't too warm today, so I ended up wearing a coat too.

The castle and tower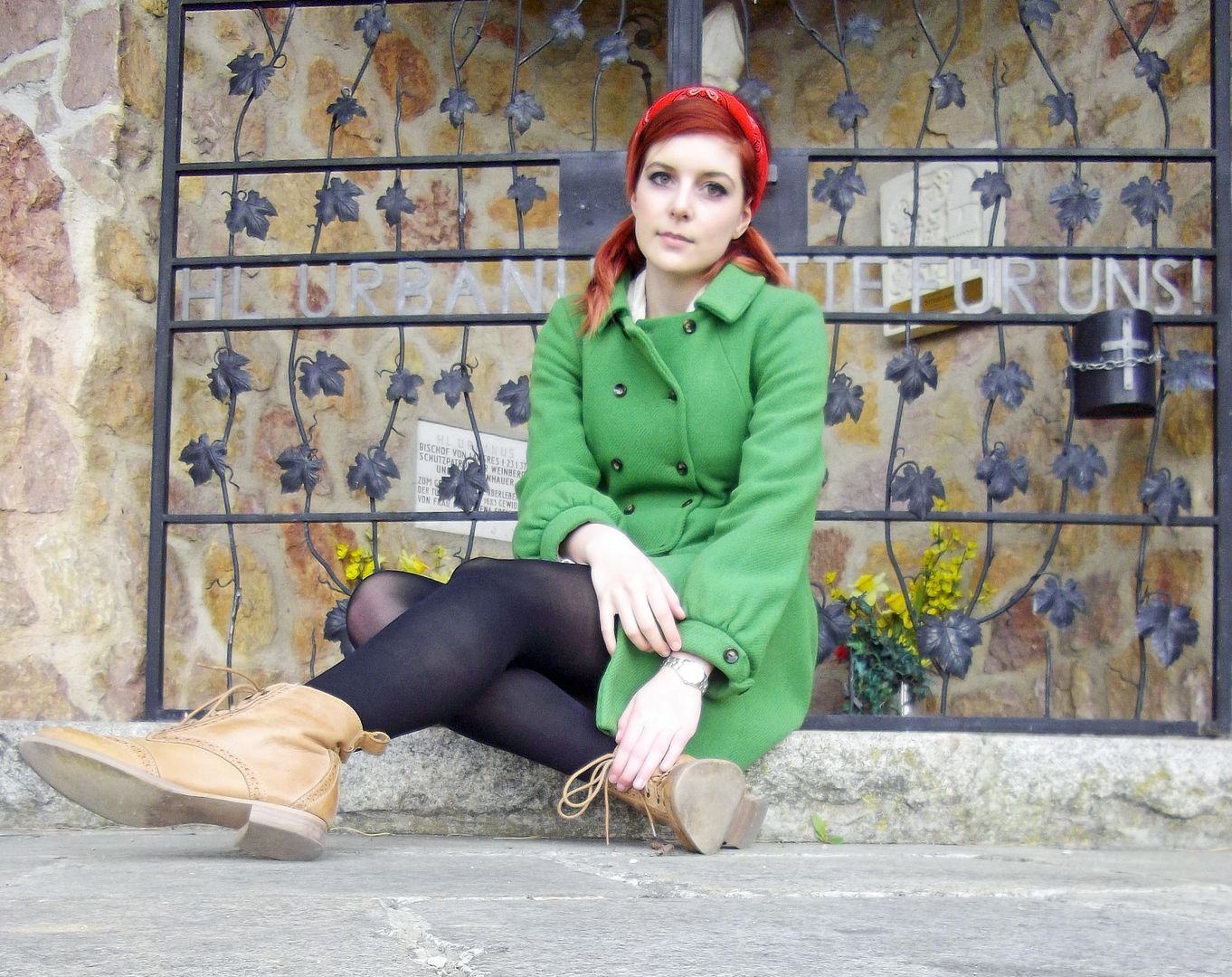 This is my winter coat. It's about 5 years old from Topshop, and I "retired" it a couple of years ago, but brought it back out this winter. I love the colour and the shape of the sleeves. You can't really see them very well in this picture, byt they're kind of spring onion shaped, if that makes any sense? (Probably not. I just compared clothing to a vegetable after all...)
I'm sitting in front of one of the various different types of shrine-y things that are scattered around the vineyards. I don't think they're for a saint, but for someone who used to look after the vineyards... Must ask someone local about this.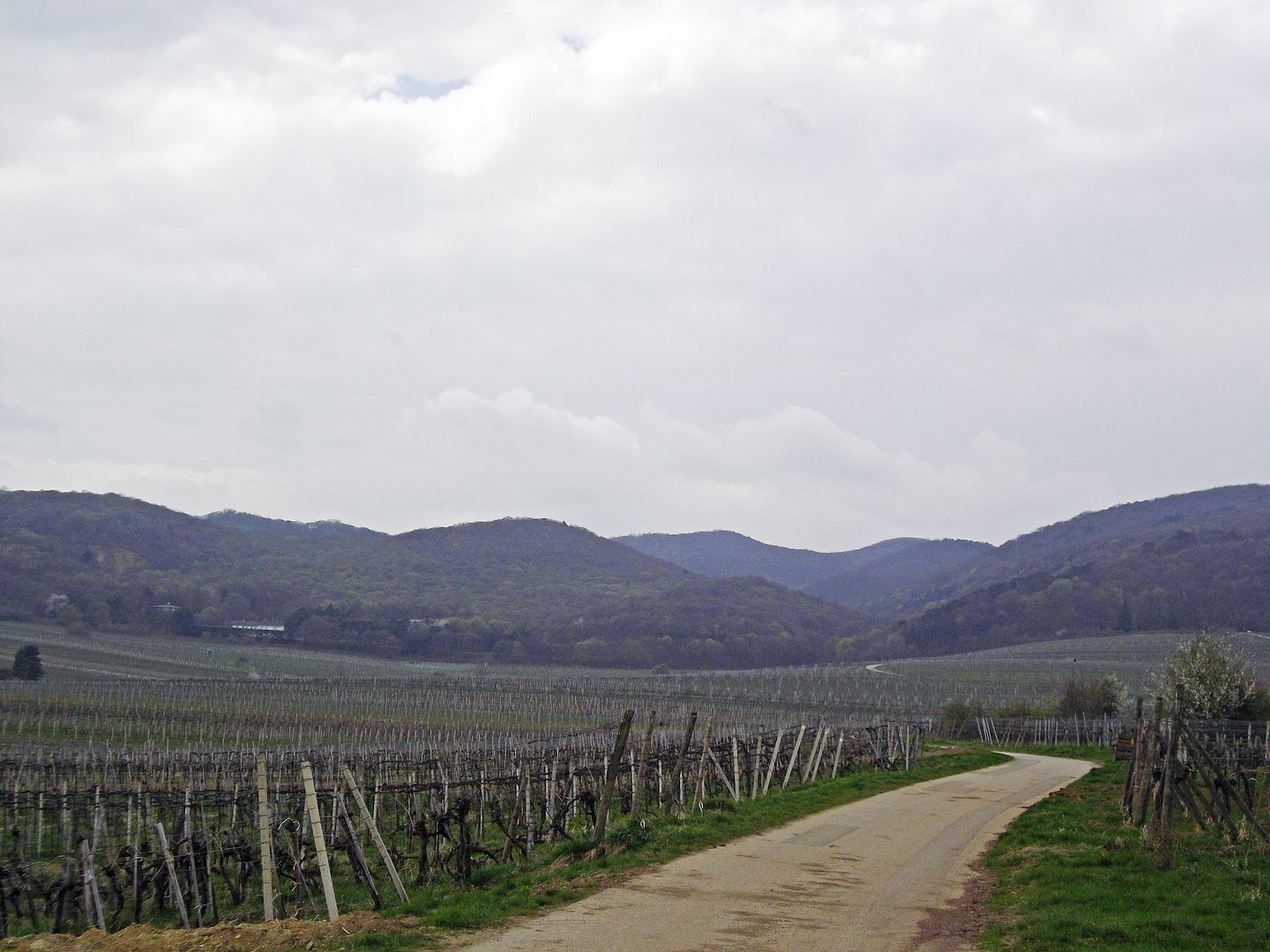 It was a little cloudy and even rained a bit at one point, so I couldn't really get a clear picture of how beautiful the scenery is. If you look the other way you can see across the whole of Vienna.
I only did about a 4km loop, but I'm shattered now. In my defence on Sunday I did go on a 30km walk up a load of hills in the Vienna Woods, so I feel I am somewhat entitled to be a little tired still! I got really badly sunburned on Sunday because it was really hot and sunny and I had no suncream, which I'm so annoyed about as I'm usually so careful in the sun. I didn't think we'd be out for as long as we were though (about five and a half hours) and I wrongly presumed there's be lots of shade in the woods. There wasn't, as there are lots of open spaces and meadows in them. I've now stocked up on my factor 50 though! Does anyone else find it annoying how the higher the SPF you want the more expense it gets? My friend Elle said that it should be the other way around, you should have to pay more for the lower SPF to encourage people to stop buying stupidly low SPF suncream.
You shouldn't use anything less than factor 15
or you aren't properly protected. Even if you have darker skin. It's no excuse. I never use anything less than factor 25, rarely anything less than factor 40. If you want a tan, fake it. Please don't leave yourselves open to getting skin cancer!
Rant over. How have you all been enjoying the nicer weather of late?